Austal Vietnam
Austal Vietnam's capability to deliver customised commercial vessel solutions is enabled by an industry leading team of skilled and experienced designers, engineers, shipbuilders and service specialists.
Austal Vietnam, located in the port city of Vung Tau in the south of Vietnam, commenced operations in March 2018 – as part of a strategy by Austal to expand its manufacturing operations for commercial vessels. The shipyard begins its life with core design and fabrication teams ably supported by Austal Australia's design and construction resources.
The Austal Vietnam shipyard features modern facilities enabling best practice, modular construction processes that meet Austal's internationally renowned, high standards of quality and safety. The company expects to add great value to both the local community and the greater Vietnamese economy; generating local employment and supply chain opportunities. The company supports the purchasing and procurement of materials used in production from local businesses, wherever and whenever possible.
Austal Vietnam is geographically, financially and strategically positioned to cater to global market demands for high speed passenger and vehicle passenger ferries, work boats, offshore crew transfer vessels, windfarm vessels and other commercial and utility vessels.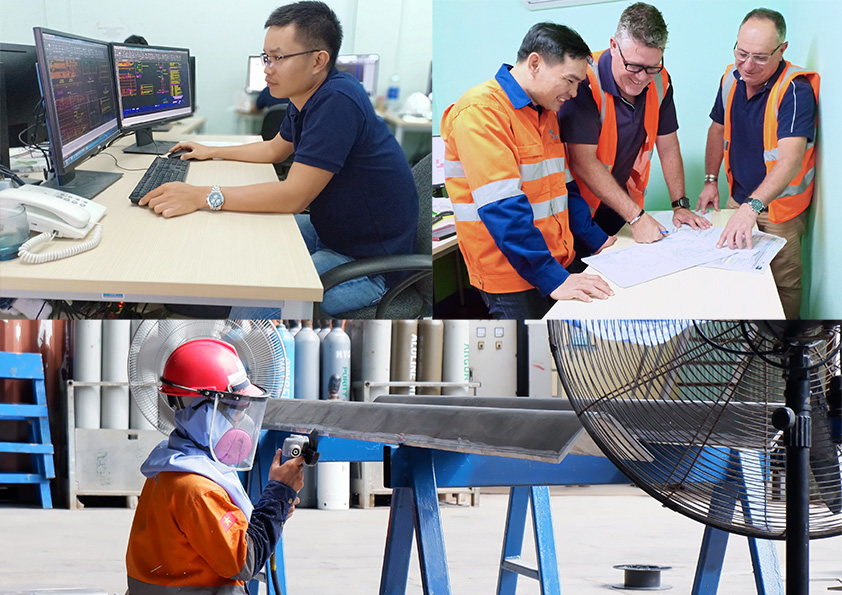 Applying ISO9001 and ISO14001 quality assured and certified design standards, Austal Vietnam uses identical processes and procedures developed from the parent company, Austal Ships in Henderson, Western Australia which has been ISO 9001 accredited since 2005.
Key functions of Design, Engineering, Procurement, Human Resources and post-delivery Warranty support are managed from Austal Headquarters in Henderson. This minimises overheads, ensures consistent results, and lets Austal Vietnam get on with the business of building ships – providing reassurance and vessel delivery certainty.
Austal Vietnam is led by long term Austal employee Mark Dummett, ably supported by a team of managers with a combined senior management experience of over 80 years at Austal Australia. This brings key knowledge and expert supervision for the dedicated workforce in our Vietnam shipyard where, notably, English is universally understood. All of this contributes to exceptional communications, crticial in achieving shipbuilding excellence and on-time project delivery.
As Austal celebrates 30 years of shipbuilding in 2018, Austal Vietnam's order book is strong and includes multiple commercial vessel orders for international customers that will see deliveries through to CY 2020 and beyond.
Additional Information
Austal Vietnam Corporate Profile (printable PDF)