Production Facilities
With shipyards in Australia, the United States of America, the Philippines and Vietnam, Austal is well placed to meet the requirements of the global market.
Purpose-built, modern and enclosed shipbuilding facilities cater for the simultaneous construction of vessels of varying sizes, in multiple locations.
United States of America – Mobile, Alabama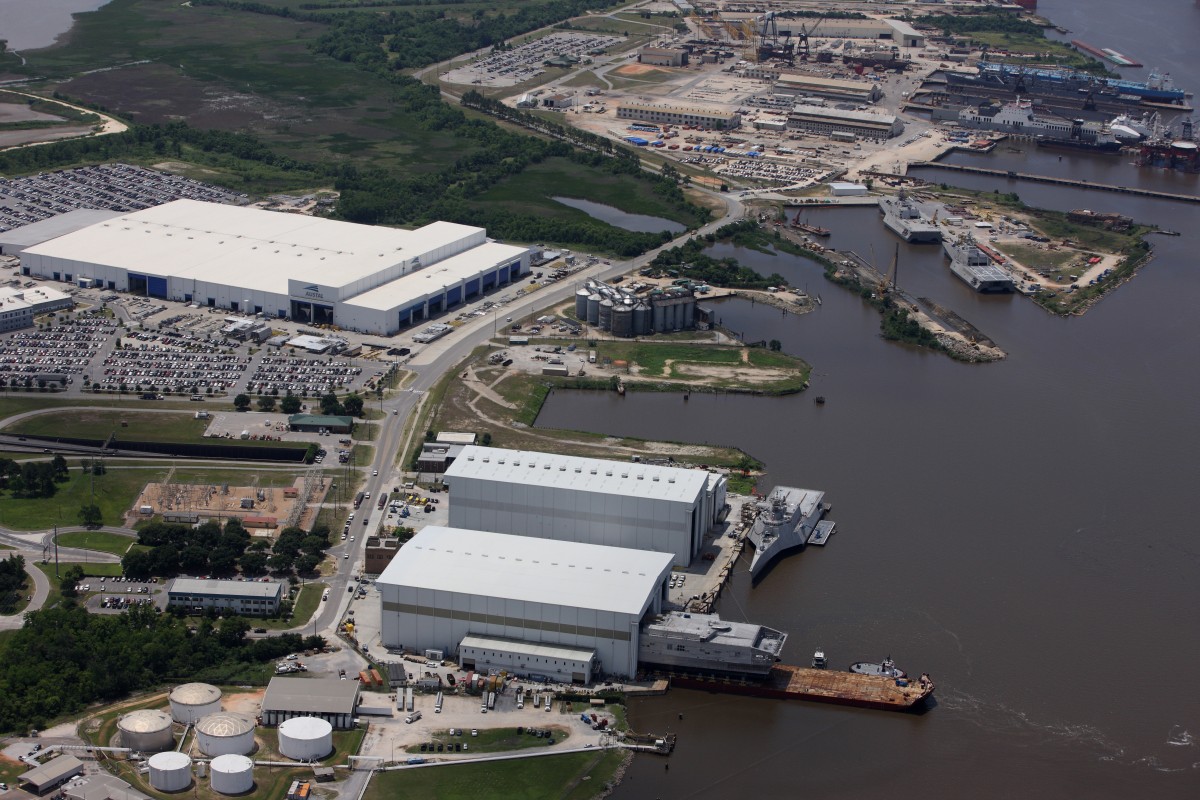 Austal's extensive shipbuilding and support facilities in Mobile, Alabama (established in 1999) deliver a new dimension in vessel design, modular construction and support services to the North American market. Utilising the company's leading edge technology and design capabilities, Austal is producing revolutionary naval platforms such as the Littoral Combat Ship (LCS) and Expeditionary Fast Transport (EPF) (formerly the Joint High Speed Vessel) for the US Navy, employing over 4,500 people.
Land Area
467,000m²
Assembly Yard Land
53,000m²
MMF Land
465,000m²
Outfit Yard Land
142,000m²
Module Manufacturing Facility
MMF 1
325m long x 105m wide x 20m high
MMF 2
325m long x 105m wide x 20m high
MMF Warehouse
52m long x 123m wide x 8m high
CNC Equipment
2 x ART CNC Routers with plate and friction stir welded panel cutting capability
 
CNC T-bar Mill
 
CNC T-bar Saw
 
Transfluid 1-3" CNC Pipe Bender
 
Transfluid 3-6" CNC Pipe Bender
 
Ermaksan CNC Plate Shear
 
Ermaksan CNC Hydraulic Press Brake
 
MultiCam CNC Router for Fitout
Office Area
Administration Building
1,951m²
Office Complex
10,039m²
Final Assembly Yard
Bay 3
124m long x 41m wide x 33m high
Bay 4
124m long x 41m wide x 33m high
Bay 5
130m long x 41m wide x 33m high
Bay 6
110m long x 34m wide x 24m high
Water frontage /
Full bulkhead length
305m
Outfit Yard
Water Frontage
 
South
366m
North
366m
West
366m

Australia – Henderson, Western Australia
Austal's modern shipyards (and corporate head office) are situated on the Jervoise Bay waterfront in Henderson, approximately 8 km south of the port City of Fremantle, Western Australia. Both defence ship building and ship support services are provided (including refit, repair and maintenance services).
Land Area
78,344m²
Office Area
2,055m²
Building Halls
Bay 3
93.0m long x 21.0m wide x 14.9m high
Bay 4
95.0m long x 30.0m wide x 21.8m high
Bay 5
99.0m long x 35.0m wide x 21.8m high
Bay 6
99.0m long x 23.0m wide x 14.9m high
Slipway
2,000 tonnes
Commissioning Berth
290m
Pre-Fabrication Space
4,320m²
CNC Equipment
ART 10000SX (Router) - 2.5m x 10m
ART 19000SX (Router) - 2.5m x 19m
FOM Industrie Blitz 50 (Double Saw)
FOM Industrie Argo 70 RM (Machining Centre)
Transfluid DB2090-3A (Pipe Bender)
YCM GT-250MA (Turning Centre)
Cranage
2 x 5.0 tonne gantry
5 x 3.0 tonne gantry
30 x 3.2 tonne monorail

Philippines - Balamban, Cebu
Commencing operations in 2012, Austal's Philippines shipbuilding and support facilities were officially opened in January 2013. Located in Balamban, Cebu, Austal Philippines has modern, extensive facilities to cater for custom commercial and defence vessel construction, servicing and sustainment.
Land Area
120,000m² incl 20,000m² hardstand
Assembly Bays
Bay 1
120m long x 35m wide x 42m high
Bay 2
60m long x 20m wide x 19.6m high
Bay 3
60m long x 20m wide x 19.6m high
Workshops
CAD plasma cutting facility
 
Outfit area
 
Pipe and engineering workshop
 
Paint shop
 
Overhead cranes
 
Management and project offices
Slipway
Maximum 1000 tonnes
 
Maximum length 80m
 
Maximum beam 20m
Repairs
80m x 80m
 
3000 tonnes
Berthing
Mooring up to 80m
 
Full cranage facilities
 
Support facilities
Vietnam - Vung Tau City, Bia Ria - Vung Tau Province
Austal Vietnam, located in the port city of Vung Tau in the south of Vietnam, commenced operations in March 2018 – as part of a strategy by Austal to expand its manufacturing operations for commercial vessels.
| | |
| --- | --- |
| Land Area | 9,820m² |
| Workshops |   |
| Main Assembly Hall | 3,234m² |
|   | 2 x 24 tonne crane (12T + 12T) |
|   | 20.8m under crane beam |
| Assembly Hall Annex | 1,848m² |
|   | 2 x 10 tonne crane |
|   | 2 x 5 tonne crane |
|   | 15m under crane beam |
| CNC & Ancillary Workshops | 2,622m² |
|   | 1 x 5 tonne crane |
| Offices | 684m² |
| Launch & Wharf Facilities | Dong Xuyen Port |
| Employees | 201 (March 2019) |