March 26, 2004
Austal's Firsts For Sealink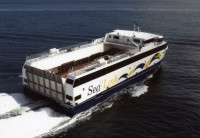 Enthusiastic welcome for Austal's first medium speed ferry.
Built for its first domestic ferry customer, Austal's first medium speed ferry has completed its first summer season with a perfect record for sailings reliability. Not surprisingly, operator Kangaroo Island SeaLink says the new catamaran has received an enthusiastic welcome from regular travellers, tourists and freight customers.
The aluminium catamaran "Spirit of Kangaroo Island" was delivered in early December – just nine months after the order was placed - demonstrating a remarkably short build time for the custom designed vessel which measures just over 50 metres in length overall.
The new vessel has been acquired to accommodate increased passenger traffic and to improve ferry services to Australia's third largest island. Operating up to 10 trips per day, Kangaroo Island SeaLink provides the primary sea transportation ferry service between the mainland and Kangaroo Island, which is situated about nine nautical miles offshore from Cape Jervis, on the tip of the Fleurieu Peninsula in the state of South Australia.
With capacity for 244 passengers and 55 cars or 16 cars and eight trucks, "Spirit of Kangaroo Island" is powered to its economical speed by a pair of Caterpillar 3512B diesels driving 5-bladed, fixed pitch propellers via Reintjes gearboxes.
The 350 tonne deadweight is substantial for a ferry of this size and is crucial to its success due to the significant freight volumes carried on the route alongside resident and tourist traffic. The variety of vehicles carried by "Spirit of Kangaroo Island" is effortlessly loaded and unloaded over the wide stern ramp onto an obstruction-free open vehicle deck which has no height restrictions.
Austal's Technical Manager, Mr James Bennett, praised "Spirit of Kangaroo Island" as a great ambassador for all-aluminium vessels. "In addition to the advantage of reduced maintenance, vessels built from aluminium have higher deadweight which provides the operator with an important advantage, particularly where freight loads are concerned. Further, the reduction in power required to run an aluminium vessel results in on-going economic benefits to the operation," he said.
SeaLink is already benefiting from these advantages. Performance has exceeded expectations, with service speeds around 16 knots (at 1680rpm) resulting in a five minute reduction in the scheduled crossing time of 45 minutes. There have also been gains in efficiency, with fuel savings of around 50 litres per return crossing compared to SeaLink's smaller and slower steel-hulled catamaran "Sealion 2000".
The focus in the interior has been to produce a level of fitout that is both economical and practical while also providing passengers with a comfortable and enjoyable travelling experience. Passenger facilities on the air-conditioned ferry include a licensed café, television and video monitors and a mixture of table and chair arrangements and aircraft style seating. Every effort has been made to ensure disabled passengers are catered for, including the provision of specially allocated wheelchair areas and disabled toilets.
Kangaroo Island SeaLink Chief Executive, Mr Jeff Ellison said, "In acquiring the new ferry it was important to us to provide general amenities onboard which show a significant improvement from its predecessor. We required a simple, practical boat that suited our operational needs. We are certainly pleased with the facilities on "Spirit of Kangaroo Island" and are delighted with the feedback we have received from our clientele."
SeaLink's Senior Master, Mr Trevor Bates, is also full of praise for the new ferry's performance. "The vessel has been well received by our clients in presentation, general arrangement, facilities and overall performance. Kangaroo Island residents who travel regularly are forfeiting off-peak fares on other services to travel on "Spirit of Kangaroo Island"," he said.
"As a significant portion of our custom is concerned with freight, the 100 per cent increase in freight lane metre capacity provided by "Spirit of Kangaroo Island" has provided our freight clients better accessibility to peak departure times. The vessel's freight departures now deliver a level of service equal to or better than SeaLink's other vessel for passengers and vehicles and this has been well received," Mr Bates continued.
The route across Backstairs Passage is well-known for its challenging sea conditions making motion a critical issue. "An important aspect of acquiring a new vessel was to seek an improved seakeeping capability," Mr Bates said. "This is certainly the case and we continue to experience no forward slamming. In late December we experienced 30 to 35 knot winds and rough seas to 3.5 metres and we were delighted to receive positive customer feedback with no motion sickness problems."
The ports of Cape Jervis and Penneshaw are limited in size, which makes vessel control particularly important. The use of larger, flap type rudders and the increase in diameter of the bow thrusters compensates for additional windage compared to SeaLink's smaller vessel and provides extremely good manoeuvrability.
Austal's strengths highlighted
SeaLink began the acquisition of "Spirit of Kangaroo Island" by firstly commissioning a concept design and lines plan from AMD Marine Consulting and then approaching various shipyards to tender for the build. After Austal won the tender, its highly skilled in-house design department worked with SeaLink and AMD to develop the concept further, creating the final product.
"During the selection process for a builder for this vessel, we were looking for a company with experience, the ability to meet a tight schedule and, in particular, financial strength. Austal topped the list with these attributes and we are delighted to have taken delivery of this well-built and practical vessel," Mr Ellison said.
"Austal's greatest strength is in its staff and fast delivery times, providing excellent quality of work and a commitment to delivering the best possible solution. The working relationship between our company and the project team at Austal has been excellent, with all our requirements being fulfilled and any problems resolved without delay," he added.
Austal Sales and Product Development Manager Mr Glenn Williams said the vessel was further evidence of the company's ability to build a variety of designs with the needs of the client and the operation considered with the utmost importance. "Austal's reputation in the fast ferry industry is second to none and this vessel demonstrates that our capabilities can be equally well applied to medium speed ferries," he said.
"A vessel like "Spirit of Kangaroo Island" is a practical alternative for operators who don't require a high speed service but still require quality and operating economy. We are delighted to have worked with Kangaroo Island SeaLink on this very successful project, which adds another significant reference to our portfolio of shipbuilding expertise."
PRINCIPAL PARTICULARS
Length overall: 50.4 metres
Length waterline: 49.5 metres
Beam moulded 17.8 metres
Hull depth moulded: 5.0 metres
Hull draft (maximum): 2.5 metres
Deadweight (maximum): 350 tonnes
Crew: 6
Passengers: 244
Vehicles: 55 cars
or 16 cars and 8 trucks
Axle loads - centre lanes 8 tonnes (single axle)
12 tonnes (dual axle)
- outer lanes: 2 tonnes
Vehicle deck clear height: unlimited
Fuel (approx): 51,000 litres
PROPULSION
Main engines: 2 x Caterpillar 3512B; 1118kW at 1800rpm each
Gearboxes: 2 x Reintjes WAF 643
Propellers: 2 x Veem 5-bladed fixed pitch
Speed: 16.3 knots at 100% MCR with 350 tonnes deadweight
SURVEY
Classification: Det Norske Veritas
ENDS
Further Information
| | |
| --- | --- |
| Contact: | Austal |
| Phone: | 61 8 9410 1111 |
| Fax: | 61 8 9410 2564 |
| Email: | media@austal.com |