August 28, 2019
AUSTAL AND FRED. OLSEN, S.A. PARTNER ON ENVIRONMENTAL BENEFITS FOR NEXT GENERATION TRIMARAN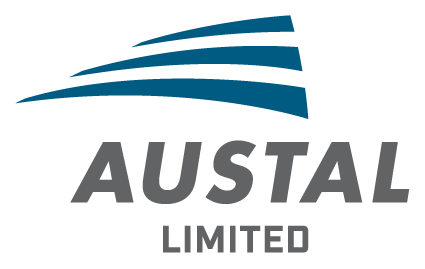 COMPANY ANNOUNCEMENT
28 AUGUST 2019
AUSTAL (ASX: ASB) and long term customer Fred. Olsen, S.A. have partnered on two next generation trimarans with advanced environmental credentials.
Starting with the design process, Austal's R&D team used optimized lightweight structures and the benefits of Austal's ongoing weight reduction program to reduce the power required to achieve the vessel's high speed.
This results in significantly lower emissions from the main engines compared to a steel vessel equivalent. In addition, all-aluminum vessels do not require the same corrosion protection required in steel vessels, eliminating potential pollutants from entering the marine environment.
Austal's advanced hull form design includes a very slender center hull that reduces in-water drag. As well as reducing power demand, it has been specifically designed to reduce wave wash compared to other high speed vessels. This lowers the impact on surrounding environments such as beaches, costal environments and marine life forms, as well as on nearby vessels.
Austal's latest trimaran design features the latest generation engines and waterjets which have substantially lower emissions compared to older technology. This combined with modern lightweight fibre optic cabling and low energy LED lighting has created one of the lowest emission high speed craft Austal has designed.
The vessel will be supported in operation with the latest Austal MARINELINK Smart Technology which assists the vessel's crew to reduce energy consumption by providing real time analysis on optimum vessel routing, weather, sea conditions and operational use, all targeted at reducing the vessel's fuel consumption and emissions and streamlining sustainment requirements.
Austal CEO David Singleton celebrated the long term partnership with Fred. Olsen and the benefits it supported in technological development.
"Since Austal first designed and built the Benchijigua Express 127m trimaran for Fred. Olsen Express in 2005 both companies have been committed to continuously developing new and innovative technologies that are at the forefront of maritime technology," he said.
"With the increasing need for environmentally friendly transport solutions Austal is delighted to once again be leading the industry with a next generation solution for Fred. Olsen."
Fred. Olsen Fleet Director, Juan Ignacio Liaño explained that sustainability and environmental care has always been in Fred. Olsen's DNA.
"We have been working on pioneer measures in environmental efficiency matters for more than 45 years, and in Austal we have found the perfect partner to continue making progress on this path," he said.
"Fred. Olsen is immersed in other environmental sustainability projects, such as navigation through ZEC areas, with the aim of protecting marine fauna; the replacement of the single-use plastics; the voluntary registration of the carbon footprint and the environmental certification ISO 14001 standard, which will certify our environmental management system."
Austal Media Contact
Contact:             Cameron Morse
Mobile:              +61 (0) 433 886 871
Email:                media@austal.com
Website:            www.austal.com
About Austal
Austal is an Australian shipbuilder and global defence prime contractor which designs constructs and sustains some of the world's most advanced commercial and defence vessels.
Austal successfully balances commercial and defence projects and celebrated 30 years of success in 2018.  Austal has designed, constructed and delivered more than 300 commercial and defence vessels for more than 100 operators in 54 countries worldwide.
Austal is Australia's largest defence exporter and the only ASX-listed shipbuilder. Austal has industry leading shipyards in Australia, the United States of America and Philippines and service centres worldwide.
Austal delivers iconic monohull, catamaran and trimaran commercial vessel platforms – including the world's largest trimaran ferry and multiple defence programs such as the Littoral Combat Ship (LCS) and Expeditionary Fast Transport (EPF) for the United States Navy. Austal has grown to become the world's largest aluminium shipbuilder.
Further Information
| | |
| --- | --- |
| Contact: | Austal |
| Phone: | 61 8 9410 1111 |
| Fax: | 61 8 9410 2564 |
| Email: | media@austal.com |