March 18, 2021
Austal Australia receives DNV verification for metal additive manufacturing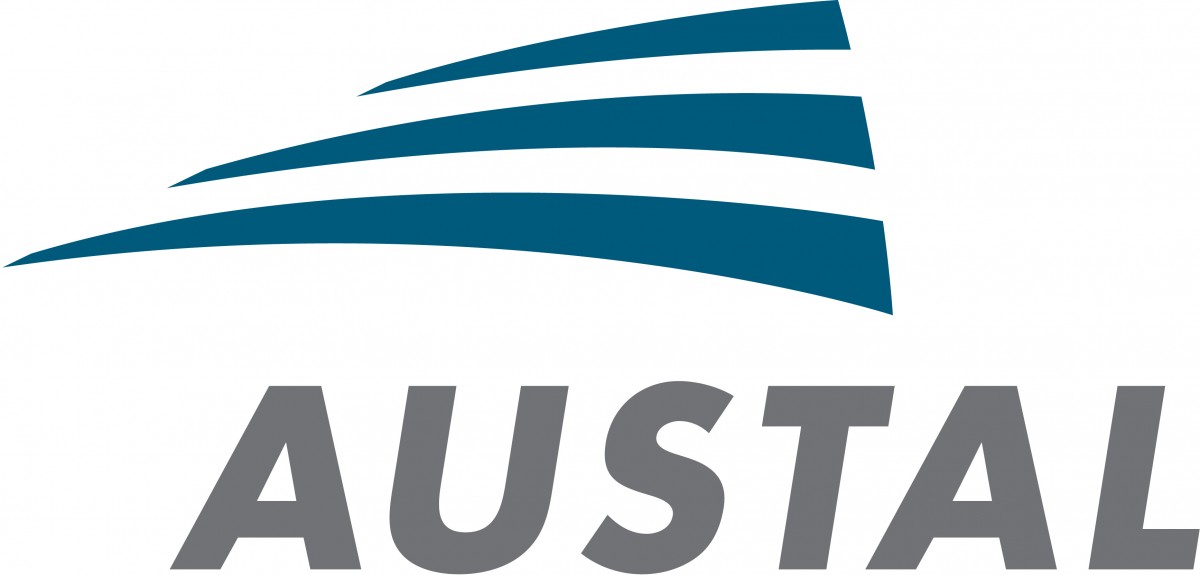 MEDIA RELEASE
19 MARCH 2021
Austal Australia receives DNV verification for metal additive manufacturing
Austal Australia has received a verification statement for an additively manufactured personnel recovery davit – intended for naval applications – from DNV, an independent expert in risk management and quality assurance. The verification statement was issued by DNV's Global Additive Manufacturing Technology Centre of Excellence in Singapore and states that the davit, produced by Austal's partner AML3D (ASX:AML) from aluminium in an additive manufacturing (AM) process, meets the specification requirements.
The verification by DNV follows extensive research, production and testing by Austal Australia in collaboration with technology partners AML3D and Western Australia's Curtin University.
Austal's Chief Digital Officer Andrew Malcolm said the successful collaboration with AML3D and Curtin University on the additive manufacturing project highlighted the many opportunities to pursue emerging technologies with Australian industry.
"Austal Australia has been working with AML3D since 2019 on the development of hybrid manufacturing approaches that put robotics side by side with our highly skilled tradesmen and women to fabricate large complex structures," Mr Malcolm said.
"Wire Arc Additive Manufacturing, or WAAM, has the potential to enable a productivity step change in shipbuilding, able to 3D print marine grade metal structures at at a scale well beyond other commercially available metal 3D printing technologies.
"This DNV verification statement for the AM-produced personnel recovery davit shows that these additive manufacturing processes can meet our specification(s), which have been developed to fulfill the requirements to fit components to naval vessels, and we are certainly encouraged by the verification to pursue future opportunities," Mr Malcolm added.
As part of the qualification process a three metre long personnel recovery davit was designed and produced to meet international and naval specifications. The assembly was then function tested to more than twice its design working load.
Following the successful load test, non-destructive and destructive testing, the results were reviewed by all parties before the final verification statement was issued.
AML3D Chief Executive Officer, Andrew Sales said, "We're proud to have been able to partner with Austal and demonstrate the advantages of our proprietary Wire Additive Manufacturing (WAM®) capabilities in the creation of the Davit Arm. Additionally, we are equally as excited to see this WAM® printed component receive official verification by DNV. This now offers a quality assurance pathway for a wide range of components that can follow a similar validation process. This is a fantastic achievment by Austal, AML3D and our other partners in this project. Working with Austal's vision for implementing Additive Manufacturing has been a further endorsement for our own business model and we're excited for the future."
The printed material (davit) was subjected to extensive testing by the John de Laeter Centre and the Curtin Corrosion Centre at Curtin University. Researchers utilised advanced microanalysis instrumentation to generate high quality microstructural information and images. In addition, the mechanical and corrosion characteristics were assessed and compared against established marine grade metals.
Professor Chris Moran, Deputy Vice Chancellor Research at Curtin University, said "Curtin University is proud to have assisted Austal in the characterisation and performance analysis of additive manufacturing materials in highly corrosive marine environments. Curtin's world class research infrastructure in additive materials and corrosion and the associated researchers are keen to assist Australian industry to maintain the necessary certification and grow its competitive advantage."
Throughout the production and testing processes, there was close engagement between DNV and Austal Australia. Factors such as functional specifications, safety, testing procedures and acceptance criteria were all subjected to scrutiny by experts.
Dr. Sastry Kandukuri, Senior Principal Materials Specialist, Energy Systems at DNV, said: "I am very happy our Global Additive Manufacturing (AM) Technology Centre of Excellence was able to support Austal to reach this milestone. Our team of multidisciplinary experts across DNV with a combined AM service experience of 20,000+ hours look forward to continuing to work together with Austal as they develop and qualify their 3D printing capabilities."
Moving forward, Austal Australia aims to continue investments in advanced manufacturing technologies, focusing on technologies with the potential to enable a step-change increase in production throughput. To this end, continued collaboration across industry and academia will be essential to develop and access expertise and capabilities.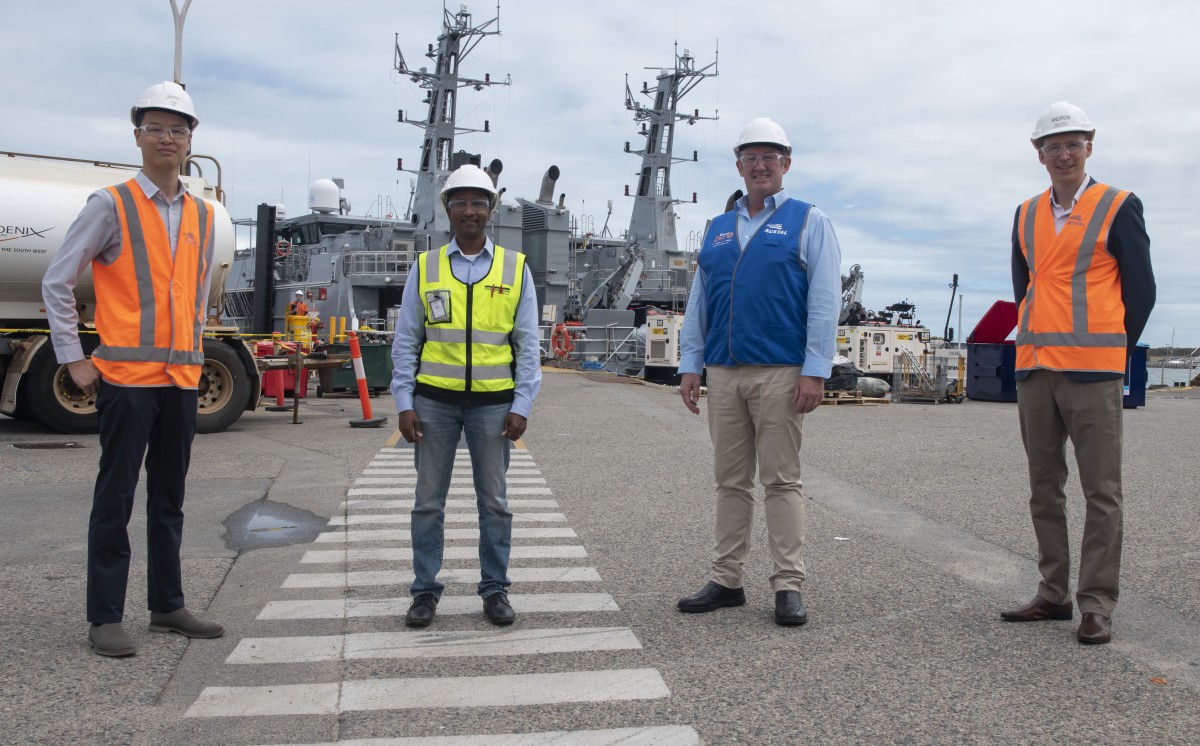 From Left: Austal Technology Project Manager, Jeffrey Poon, DNV Representative Jude Stanislaus, AML3D Chief Executive Officer Andrew Sales and Austal Chief Digital Officer Andrew Malcolm, at Austal Australia's Henderson Western Australia shipyard. (image: Austal Australia)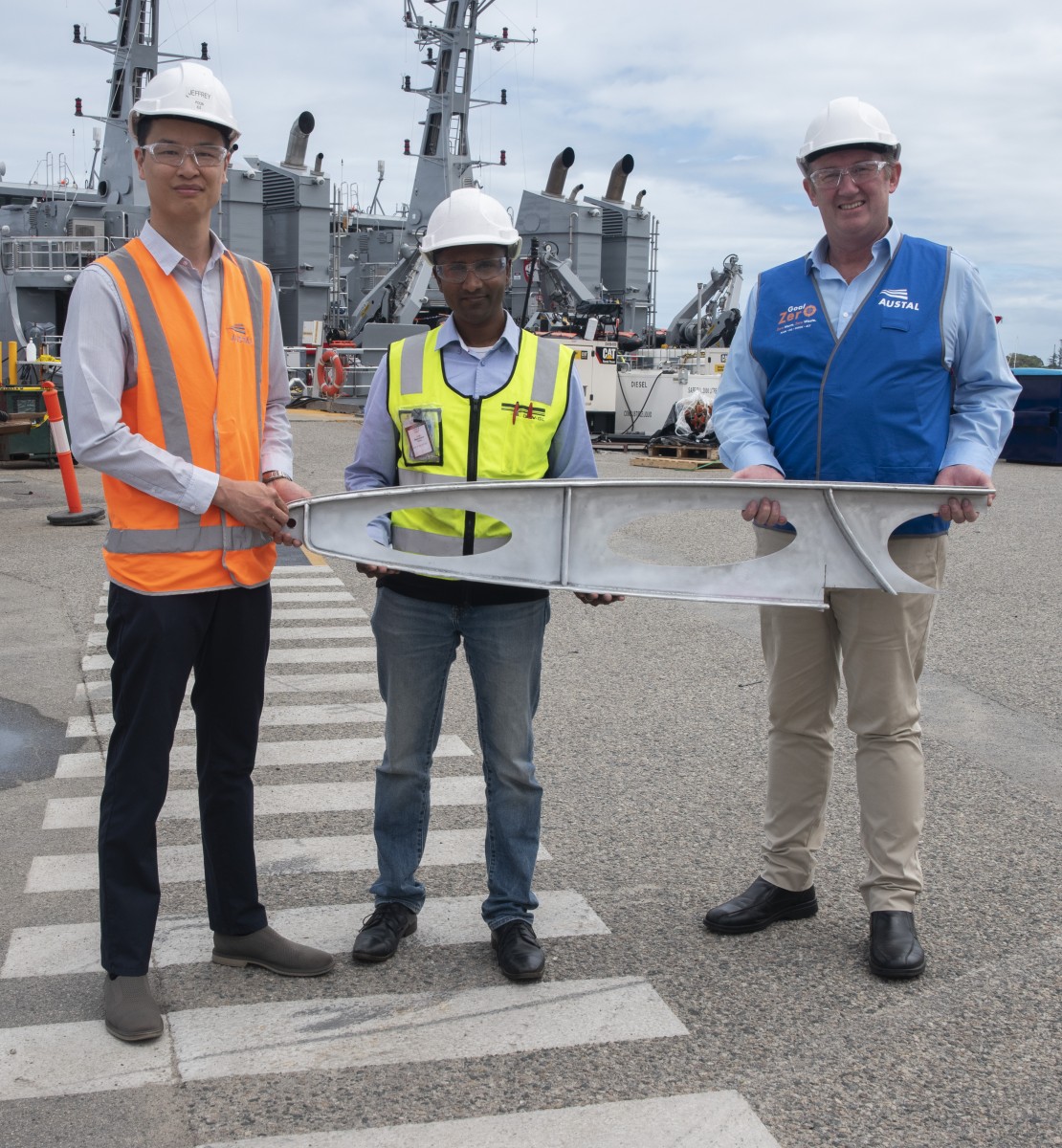 From Left: Austal Technology Project Manager, Jeffrey Poon, DNV Representative Jude Stanislaus, AML3D Chief Executive Officer Andrew Sales with a sample of the davit produced during the additive manufacturing project. (image: Austal Australia)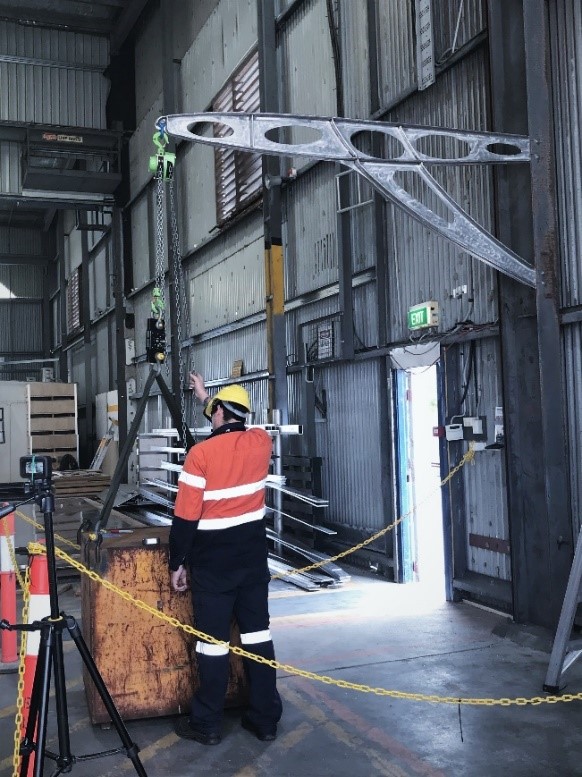 The davit produced through additive manufacturing was comprehensively function tested to twice its design load, by Austal (image: Austal Australia)
-ENDs-
Media Contact:
Cameron Morse
+61 433 886 871
cameron.morse@fticonsulting.com
Further Information
| | |
| --- | --- |
| Contact: | Austal |
| Phone: | 61 8 9410 1111 |
| Fax: | 61 8 9410 2564 |
| Email: | media@austal.com |