December 1, 2020
AUSTAL COMPLETES ACQUISITION OF BSE MARITIME SOLUTIONS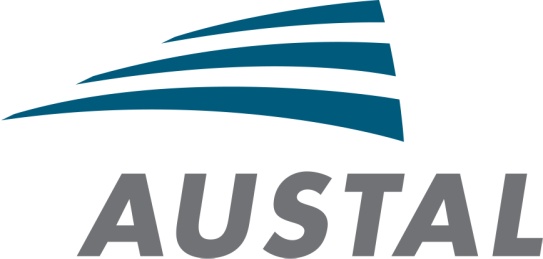 MEDIA RELEASE
2 DECEMBER 2020
AUSTAL COMPLETES ACQUISITION OF BSE MARITIME SOLUTIONS
 Austal Limited (Austal) (ASX:ASB) is pleased to announce it has completed the acquisition of Australian-based BSE Maritime Solutions Group (BSE Maritime Solutions), announced on 23 October 2020.
The completion of the acquisition marks the start of the integration of the BSE Maritime Solutions business, a leading ship repair and support provider operating in Cairns and Brisbane, into Austal Australia's service centre network and the Austal brand.  
Current customers, including Australian Border Force, BAE Systems, Thales and Svitzer, will continue to be supported by the 60 permanent employees who have all been offered employment with Austal Australia; plus the existing Austal Cairns service centre team of more than 50 technicians, engineers and service personnel.
Austal Chief Operating Officer Patrick Gregg said: "We're delighted to welcome the BSE Maritime Solutions team to Austal and the wealth of skills, experience, knowledge and enthusiasm they individually and collectively bring to our growing service and support business.
"Today we celebrate the integration of two successful businesses into a single, effective Austal team that will offer an enhanced vessel support capability to private, commercial and defence customers on the east coast of Australia.
"Austal's expanded dockyard and ship-lift facilities in Cairns, including the Pacific's largest mobile boat hoist, significantly enhances our in-service support capabilities for the growing number of Austal-designed and constructed Cape-class and Guardian-class Patrol Boats operating in the region and positions the company well to pursue additional defence support contracts in the future," Mr Gregg added.
The newly expanded Austal Cairns Service Centre will continue to be managed locally by General Manager Adrian Smith, reporting to Austal Australia's Head of In-Service Support, Mike Steen who oversees the national in-service support operations in Henderson, Western Australia, Darwin, Northern Territory and Cairns, Queensland. Austal's new Brisbane team and facilities will be managed by the Austal Cairns Service Centre.
- ENDs -
Media Contact:
Cameron Morse
+61 433 886 871
cameron.morse@fticonsulting.com
Further Information
| | |
| --- | --- |
| Contact: | Austal |
| Phone: | 61 8 9410 1111 |
| Fax: | 61 8 9410 2564 |
| Email: | media@austal.com |