August 27, 2018
AUSTAL COMPLETES ROLL OUT MILESTONE FOR 109M HIGH SPEED CATAMARAN FERRY FOR MOLSLINJEN OF DENMARK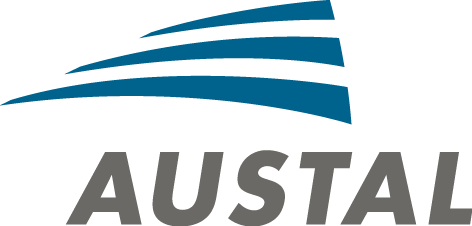 MEDIA RELEASE
27 AUGUST 2018
AUSTAL (ASX:ASB) today celebrated the successful roll out of the Auto Express 109 metre high speed vehicle / passenger catamaran ferry 'Express 4' for Molslinjen (OMX:MOLS) of Denmark. The milestone involved the hull and superstructure leaving the construction halls, followed by the superstructure being lifted and joined to the hull. The vessel is now undergoing final fit out and will commence sea trials shortly.
This next generation catamaran commenced construction in April 2017. Featuring an advanced design with optimised hull form to minimise fuel consumption and Austal's industry leading Ride Control System for superior sea-keeping and comfort, the vessel supports over 1000 passengers, 425 cars, and will operate at speeds up to 40 knots.
"This revolutionary high speed catamaran is the latest advancement from Austal's centre of excellence for maritime design. The technology and efficiency of this vessel truly places it in a class of its own" Austal CEO, David Singleton said.
"The international demand for Austal vessels in both commercial and defence markets is testament to the Austal team and their continued ability to deliver the world's most advanced aluminium vessels" he said.
"The commercial ferry market has continued to strengthen over the last 18 months, with the Austal Auto Express 109 setting the benchmark for large, technologically advanced, super efficient, high speed ferries. Austal continues to lead the market in this record sales period, cementing the company's largest forward order book" Austal Vice President of Sales and Marketing, Ben Marland, said.
The Auto Express 109 catamaran has been designed and built at Austal's Henderson shipyard in Western Australia, supporting more than 450 jobs. Austal has also commenced construction of an Auto Express 109 for Fjord Line of Norway, and the first of two 117 metre trimarans for Fred.Olsen S.A. of the Canary Islands.
Austal Media Contact
Contact:   Gemma Whiting - Government Relations: +61 (0)408 982 727
Email:   gemma.whiting@austal.com
Website:   www.austal.com
About Austal
Austal is an Australian shipbuilder and global defence prime contractor which designs constructs and sustains some of the world's most advanced commercial and defence vessels.
Austal successfully balances commercial and defence projects and celebrates 30 years of success in 2018. Austal has designed, constructed and delivered more than 300 commercial and defence vessels for more than 100 operators in 54 countries worldwide.
Austal is Australia's largest defence exporter and the only ASX-listed shipbuilder. Austal has industry leading shipyards in Australia, the United States of America and Philippines and service centres worldwide.
Austal delivers iconic monohull, catamaran and trimaran commercial vessel platforms – including the world's largest trimaran ferry and multiple defence programs such as the Littoral Combat Ship (LCS) and Expeditionary Fast Transport (EPF) for the United States Navy. Austal has grown to become the world's largest aluminium shipbuilder.
Further Information
| | |
| --- | --- |
| Contact: | Austal |
| Phone: | 61 8 9410 1111 |
| Fax: | 61 8 9410 2564 |
| Email: | media@austal.com |