You are here
January 11, 2016
Austal hosts keel-laying ceremony for future USS Tulsa (LCS 16)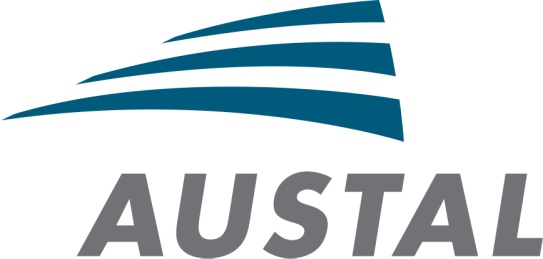 MOBILE, Ala., – Austal hosted a keel-laying ceremony for the future USS Tulsa (LCS 16) here today, marking the first significant milestone in the ship's construction. This ship is the sixth Independence-variant littoral combat ship (LCS) built at Austal under the 10-ship, $3.5 billion block buy contract awarded to Austal in 2010.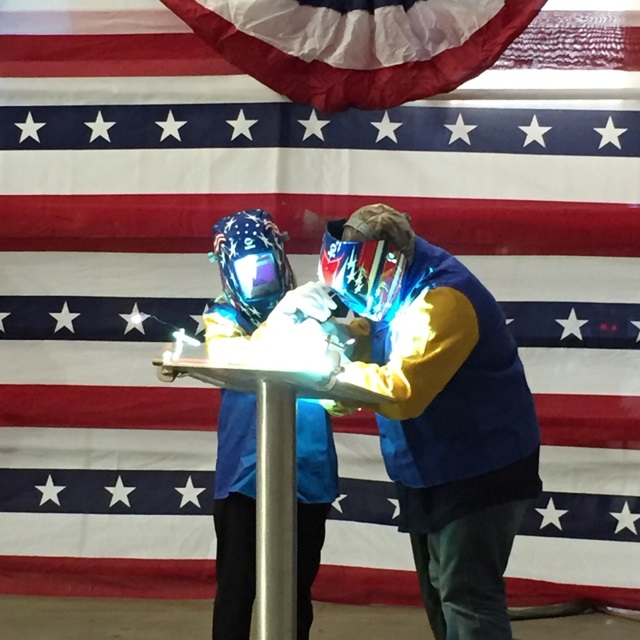 LCS 16 Keel Authentication
Ship sponsor Kathy Taylor, former Tulsa mayor and CEO of ImpactTulsa, authenticated the keel by welding her initials onto an aluminum plate that will be placed in the hull of the ship.
"It amazes me how fast this ship is coming together." Austal USA President Craig Perciavalle said. "The speedy construction of this amazing ship is evidence of the rapid maturity of Austal's LCS program, a testament to the extreme level of talent and experience displayed by Austal's shipbuilding team."
Austal's LCS program delivered USS Independence (LCS 2) in 2009, USS Coronado (LCS 4) in 2013, and USS Jackson (LCS 6) in 2015. Six additional LCS are under construction at the Mobile, Ala. shipyard. Montgomery (LCS 8) and Gabrielle Giffords (LCS 10) are preparing for builders trials later this year. Omaha (LCS 12) was christened Dec. 19, and Manchester (LCS 14) will complete final assembly and prepare for launch later this year.  Modules for Charleston (LCS 18) are under construction as well.
Austal is also building 10 Expeditionary Fast Transports (EPF) for the U.S. Navy under a $1.6 billion block-buy contract. USNS Trenton (EPF 5) marked the fifth vessel in this class to be delivered since the inception of the program. Both USNS Spearhead (EPF 1) and USNS Millinocket (EPF 3) are currently deployed supporting Naval fleet operations.
ENDS
About Austal
Austal is a global defense prime contractor and a designer and manufacturer of defense and commercial ships. For more than 25 years Austal has been a leader in the design, construction and maintenance of revolutionary ships for governments, navies and ferry operators around the world. More than 250 vessels have been delivered in that time.
Ships
Defense vessels designed and built by Austal include multi-mission combatants, such as the Littoral Combat Ship (LCS) for the U.S. Navy and military high speed vessels for transport and humanitarian relief, such as the Expeditionary Fast Transport (EPF) for the U.S. Navy and High Speed Support Vessel (HSSV) for the Royal Navy of Oman. Austal also designs, constructs, integrates and maintains an extensive range of patrol and auxiliary vessels for government agencies globally, including the Cape Class Patrol Boat Program for Australian Border Force. Defense vessels are designed and constructed in Mobile, Ala. and in Henderson, Western Australia.
Austal has been at the forefront of the high speed ferry market since the early days of the industry. Our market leading designs of high performance aluminum vessels have long been at the heart of Austal's research and development. Today, commercial ship construction is centered on our shipyard in Balamban, Philippines.
Systems
Austal has expertise in integrating complex systems into its ships, including ride control, ship management, and communication, sensors and weapon systems.
Support
Austal provides a wide range of support services, including through life support, integrated logistics support, vessel sustainment and systems support. These services are delivered through our global support network in the USA, Australia, Asia, and the Middle East together with partner shipyards worldwide.
ENDS
Follow Austal USA on: Flickr | Facebook | Twitter | Instagram | YouTube
Further Information:
Austal USA Press
(251) 445-5911