February 3, 2019
AUSTAL INCREASES FULL YEAR REVENUE GUIDANCE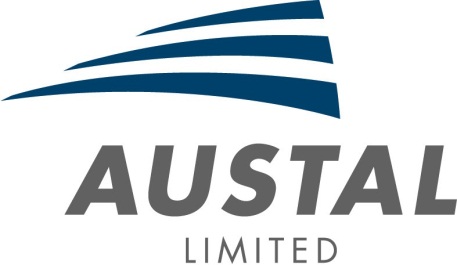 COMPANY ANNOUNCEMENT
4 FEBRUARY 2019
AUSTAL INCREASES FULL YEAR REVENUE GUIDANCE
Austal Limited (Austal) (ASX:ASB) provides the following update on the Company's FY2019 guidance.
Austal previously indicated that it expected FY2019 group revenue of $1.3–$1.4 billion. Following preparation of the draft FY2019 H1 accounts, including updated forecasts from the USA, the Company now expects FY2019 revenue of approximately $1.9 billion (assuming that the USD / AUD exchange rate continues at the current level).
The increase in projected revenue is due to numerous factors that are a consequence of:
 greater number of Littoral Combat Ships (LCS) in the USA – two in September 2018 and two in December 2018, (refer ASX announcements 19 September 2018 and 17 December 2018) which is leading to higher than expected procurement levels in FY2019
 better than expected progress in the construction of the previously awarded LCS ships.
 earlier than expected receipt of EPF 13 and 14 long lead material contracts
 greater support and sustainment revenue growth from contracts recently announced in the USA (refer ASX announcements 24 December 2018 and 25 January 2019)
 translation of USD revenue in the USA, Vietnam and the Philippines into AUD at a lower USD / AUD exchange rate
 increased volume in Vietnam following the completion of the new shipyard at the end of CY2018 and receipt of a contract for a 94 metre ferry
 accelerated construction of a commercial vessel in Australia after securing additional leased shipbuilding facilities in Western Australia; and
 other smaller changes.
The incremental revenue is distributed over a number of different contracts with varying EBIT margins. In addition, Austal's policy is to recognise profit at a lower level in the early stages of procurement and production for new vessel designs or existing designs that are undergoing material modifications or upgrades, particularly the LCS and EPF programs. However, the increased sales will improve earnings in the current financial year and to assist investors Austal is providing FY2019 H1 Earnings Before Interest and Tax (EBIT) guidance of $39 to $41 million, subject to review by Austal's auditor and approval by the Board of Directors.
FY2019 US Shipbuilding margin is still projected to be in the range of 7–8%.
Austal is planning to release its interim financial results in the week commencing Monday 25 February 2019.
END
Further Information:
Contact:             Cameron Morse
Email:                Cameron.Morse@fticonsulting.com
Mobile:              +61 433 886 871
Further Information
| | |
| --- | --- |
| Contact: | Austal |
| Phone: | 61 8 9410 1111 |
| Fax: | 61 8 9410 2564 |
| Email: | media@austal.com |