March 26, 2004
Austal Launches Largest Vessel to Date - Lake Express High-Speed Vehicle-Passenger Ferry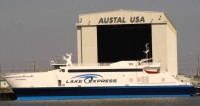 First ever high speed vehicle ferry for the continental United States.
On March 20, Austal successfully launched its seventh and largest vessel to date. "Lake Express", a 58 metre high-speed vehicle-passenger ferry rolled out of Austal's purpose-built aluminium shipbuilding facility in Mobile, Alabama, and into the Mobile River. This vessel has several points of significance including:
Largest vessel built at Austal's USA yard
First high-speed vehicle-passenger ferry built at Austal's USA yard
First high-speed vehicle-passenger ferry to operate within the Continental US
First vessel of its kind to operate across Lake Michigan
When asked of the impact this project has on Austal's future as a premier aluminium shipbuilder in the US, Austal's USA CEO, Greg Metcalf responded, "This project is a further step in building up capacity and capability at Austal which will stabilize our efforts to be a major contender in larger contracts in both the commercial and military markets."
Key stakeholders involved in the landmark project to build this vessel for Milwaukee-based Lake Express LLC attended a ceremony less than a year ago, on July 10, 2003, to celebrate the start of the vessel's construction at the Austal USA shipyard in Mobile, AL. At that time, discussing his opportunity to lay the first weld on the superstructure, one of the stakeholders, Oyvind Solvang commented, "I am happy to accept," he said, "because now I will be able to say that I have welded with the best of them. This news will certainly make my father in Norway very proud!"
These same individuals returned on several occasions throughout the construction process to witness the progress being made on their project. Upon his return to Milwaukee from a recent visit to Austal's yard, Mr. David Lubar of Lake Express, LLC, commented, "The vessel is truly amazing. We all are awed by its size and imposing profile. You have certainly recruited and trained a team of very capable workers. We are all impressed by the results."
With capacity for 248 passengers (COI for 400) and 46 cars, the Auto Express 58 will be capable of 34 knots. It will link the cities of Milwaukee, Wisconsin and Muskegon in Michigan, crossing Lake Michigan in just over two hours, thus saving passengers a lengthy drive around the southern shore of Lake Michigan, including traffic congestion in Chicago.
Austal is excited to be playing such an important role in the start of such a convenient service to the citizens of these two communities. The ferry is scheduled to be delivered to her home port of Milwaukee in May in order to start service as agreed in early June.
Background:
Austal USA, LLC was created in 1999 as a joint venture between Austal Limited of Henderson, Western Australia, and Bender Shipbuilding & Repair Company of Mobile, Alabama. Austal USA was created for the purpose of reaching the developing commercial and military vessel markets in the United States.
In the three years that the yard has been in operation, Austal USA has successfully completed six vessels, including two 45 metre crew/supply vessels, a 26 metre high-speed passenger catamaran, a 34 metre dinner cruise catamaran, a 41 metre dinner cruise monohull, and a 43 metre high-speed passenger catamaran.
Austal USA is also currently completing a contract to build a high-speed catamaran that will be used to demonstrate advanced hullform technology to the United States Office of Naval Research (ONR). The 31.2 metre vessel will be built for American Marine Holdings, which has been awarded a contract to deliver and demonstrate its SeaCoaster military vessel design to the ONR.
Principal particulars – Auto Express 58
Overall length: 58.4 metres (191ft 07in)
Waterline length (approx): 52.23 metres (171ft 03in)
Moulded beam: 17.6 metres (57ft 09in)
Hull depth (moulded): 5.0 metres (16ft 05in)
Maximum hull draft: 2.4 metres (7ft 10in)
Passengers: 248
Cars: 46
Main engines: 4 x MTU 16V 4000 M70
Gearboxes: 4 x ZF 7550
Waterjets: 4 x Kamewa 80 SII
Speed: 34 knots
ENDS
Further Information
| | |
| --- | --- |
| Contact: | Austal |
| Phone: | 61 8 9410 1111 |
| Fax: | 61 8 9410 2564 |
| Email: | media@austal.com |