You are here
November 24, 2015
Austal launches US Navy's Twelfth Littoral Combat Ship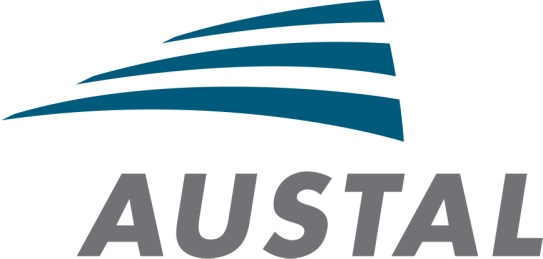 Austal (ASX:ASB) has launched the twelfth Independence-class Littoral Combat Ship, the future USS Omaha (LCS 12), at its state-of-the-art ship manufacturing facility in Mobile, Alabama, on Friday 20th November 2015. This marks the third ship Austal USA has launched this year.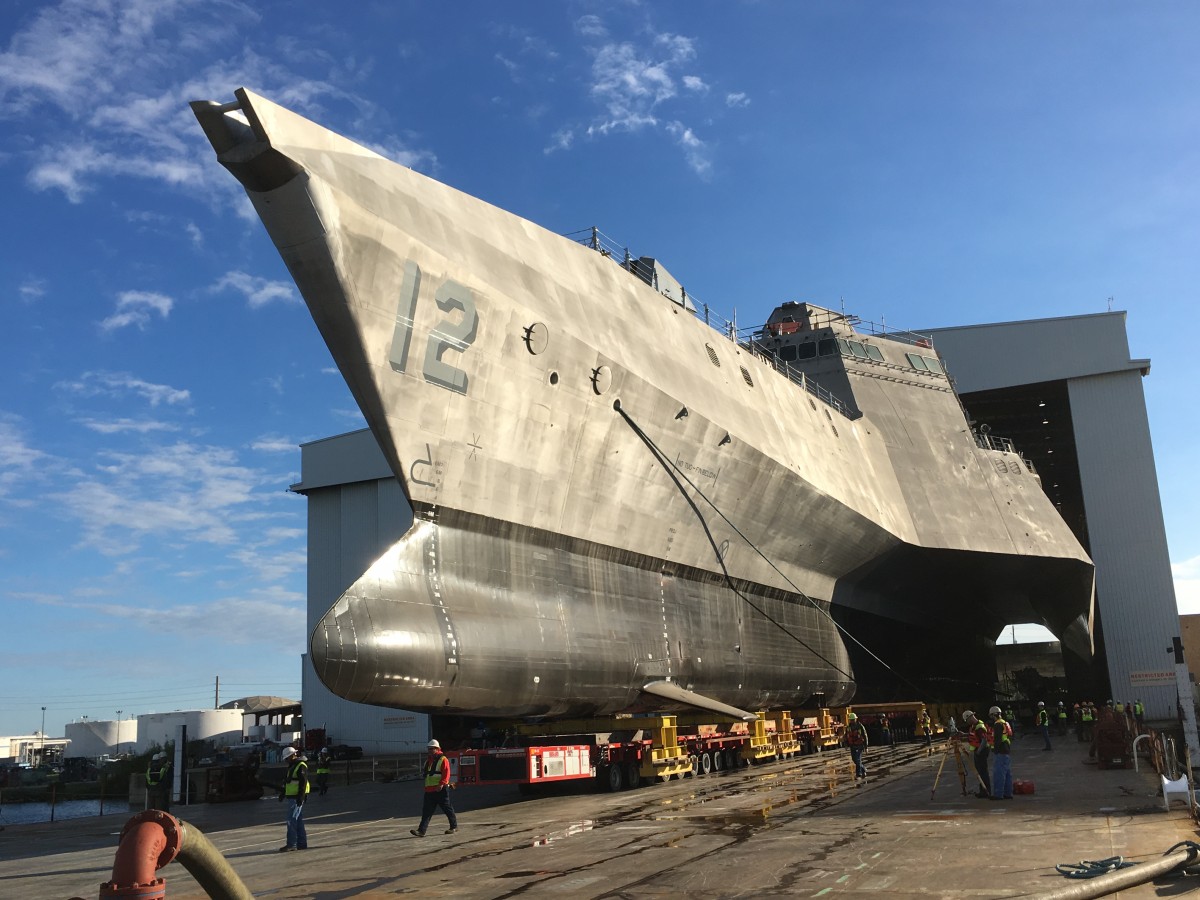 Launch of USS Omaha (LCS 12) at Austal USA facility - Mobile, Alabama
"It's exciting to successfully launch another LCS, we are pleased at how well the program is maturing," said Austal USA President Craig Perciavalle. "Incredible teamwork makes it all happen and the team here is second to none."
LCS 12 will undergo final outfitting and testing before sea trials and delivery to the U.S. Navy. Omaha, a 127m Independence-class Littoral Combat Ship, is the fourth LCS Austal has launched as part of a $3.5 billion 10-ship block buy contract.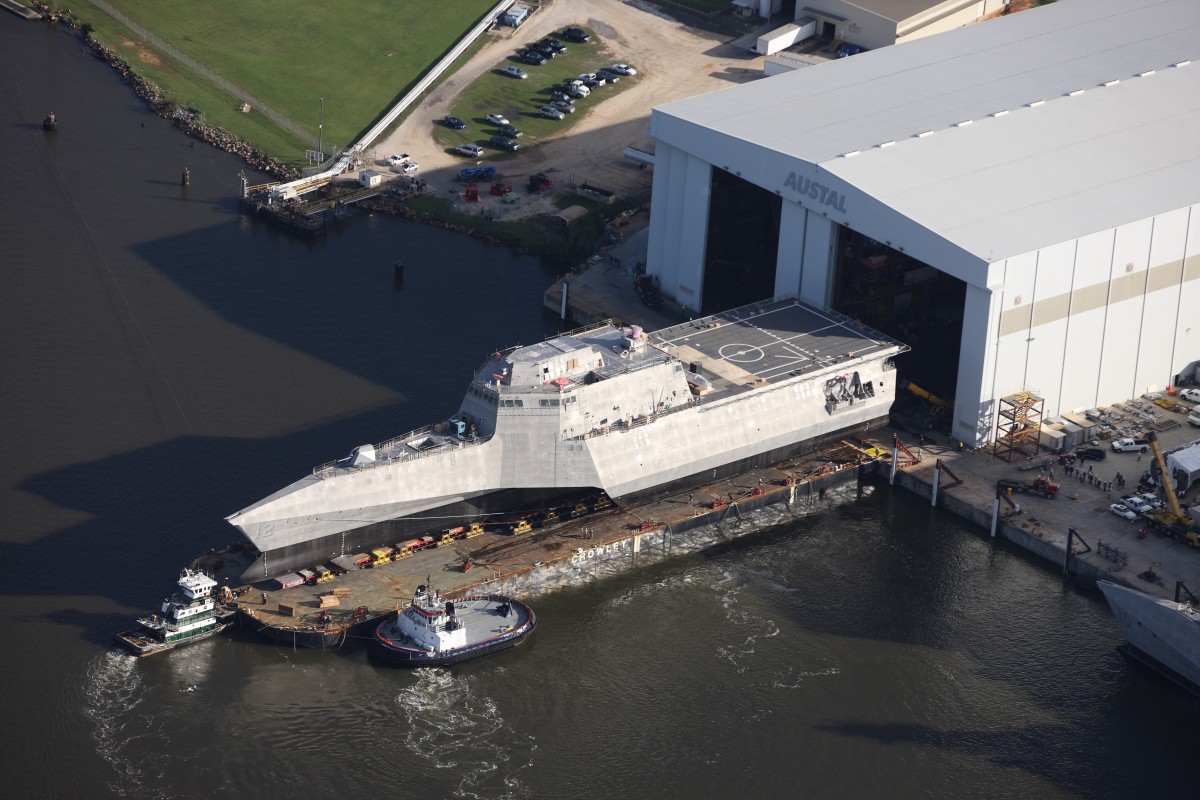 Launch of USS Omaha (LCS 12) at Austal USA facility - Mobile, Alabama
This Austal built and designed Independence-class LCS combines superior seakeeping, endurance, and speed with the volume and payload capacity needed to support emerging missions enabling rapid response to ever-evolving missions, technologies and future threats.
Six Littoral Combat Ships along with four Expeditionary Fast Transports (EPF) – previously known as  Joint High Speed Vessels (JHSV) - are currently under construction in Austal's Mobile, Alabama facility. Austal has delivered three LCS and five EPF to the US Navy to date. The US Navy took delivery of the future USS Jackson (LCS 6) in late July and she will sail away from Mobile in the coming weeks on her way to the Port of Gulfport, Mississippi to be commissioned. The future USS Montgomery (LCS 8) is preparing for acceptance sea trials in early 2016.
ENDS
About Austal
Austal is a global defense prime contractor and a designer and manufacturer of defense and commercial ships. For more than 27 years Austal has been a leader in the design, construction and maintenance of revolutionary ships for governments, navies and ferry operators around the world. More than 255 vessels have been delivered in that time.
Ships
Defense vessels designed and built by Austal include combatants, such as the Littoral Combat Ship (LCS) and military high speed vessels for transport and humanitarian relief, such as the Expeditionary Fast Transport (EPF) (previously known as the Joint High Speed Vessel or JHSV) for the U.S. Navy and High Speed Support Vessel (HSSV) for the Royal Navy of Oman. Austal also designs, constructs, integrates and maintains an extensive range of patrol and auxiliary vessels for government agencies globally, including the Cape Class Patrol Boat Program for Australian Customs and Border Protection. Defense vessels are designed and constructed in Mobile, Alabama and in Henderson, Western Australia.
Austal has been at the forefront of the high-speed ferry market since the early days of the industry. Our market-leading designs of high performance aluminum vessels have long been at the heart of Austal's research and development. Today, commercial ship construction is centered on our shipyard in Balamban, Philippines.
Systems
Austal has expertise in integrating complex systems into its ships, including ride control, ship management, and communication, sensors and weapon systems.
Support
Austal provides a wide range of support services, including through life support, integrated logistics support, vessel sustainment and systems support. These services are delivered through our global support network in the USA, Australia, Asia and the Middle East together with partner shipyards worldwide.