May 4, 2017
AUSTAL TO OPEN NEW SHIPBUILDING DESIGN & PROJECT MANAGEMENT OFFICE IN ADELAIDE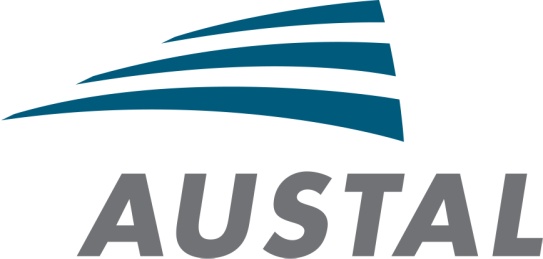 News Release
5 May 2017
AUSTAL TO OPEN NEW SHIPBUILDING DESIGN & PROJECT MANAGEMENT OFFICE IN ADELAIDE
Austal (ASX:ASB) is pleased to announce the establishment of a new design and project management office in Adelaide, South Australia, to support the company's expansion into one of Australia's two major shipbuilding hubs.
The new office will initially support preparations for the Australian Government's $3 billion Offshore Patrol Vessel (OPV) project, which will see 12 vessels constructed for the Royal Australian Navy from 2018.  It will also enable Austal to prepare for the Government's Future Frigate project, comprising nine vessels to be constructed in Adelaide from 2020.
Austal has entered into a 50:50 joint venture partnership with German designer Fassmer for the OPV project, offering a customised, low-risk solution based on a proven design platform and build strategy that has successfully delivered seven similar vessels internationally, to date.
The effective, holistic transfer of this new OPV capability to Australian industry will enable local, high quality support for the Royal Australian Navy, build local industry capability and allow Austal - Australia's largest defence exporter - to pursue new industry-building export opportunities.
Austal Chief Executive Officer David Singleton said "A clear point of difference with our (Austal Fassmer) OPV solution is that the customised, detailed design for the OPV80 will be completed by Australians in Australia; led by an internationally competitive, successful Australian shipbuilder."
Complementing experienced design and project management team members from both Austal and Fassmer, locally-recruited designers and project managers will help establish the new Adelaide office from June 2017.
"As a key stakeholder in the delivery of the Australian Government's Continuous Naval Shipbuilding Program, which includes the 19 vessel Pacific Patrol Boat Replacement Project we've just cut steel on, it is absolutely critical that we establish a strong presence in both Australian shipbuilding hubs.
"We're committed to employing, training and developing the very best talent in shipbuilding design, engineering and manufacturing in Australia for this national endeavour," Mr Singleton added.
Austal has called for expressions of interest from qualified and experienced shipbuilders to join the company's expansion into South Australia; further information is available at www.austal.com/careers .
About Austal Fassmer
Austal (ASX:ASB) and Fassmer have formed a 50:50 joint venture to bid for the Australian Government's A$3 billion Offshore Patrol Vessel project; comprising 12 vessels to be constructed for the Royal Australian Navy from 2018.
Fassmer is one of three shortlisted designers selected by the Australian Government to bid for the SEA1180-1 (Offshore Patrol Vessel) Project with the proven OPV80 design. Fassmer has had great success in transferring naval vessel designs and working effectively with local shipbuilders to deliver the proven OPV80; to countries including Chile and Colombia. Most recently Fassmer won a competitive tender against both Lurssen and Damen to supply the German Coast Guard with a customised OPV80 design.
Austal is the Australian shipbuilder; global defence Prime contractor and maritime technology partner of choice, with a proven track record to build commercial and defence vessels on-time and on-budget. With established shipbuilding facilities in Australia, the USA and Philippines, the company is experienced in successfully transitioning complex vessel designs across shipyards and around the world.
Austal's Australian shipyard has been the sole designer and builder of Australia's entire border patrol capability since 1998 and is currently delivering the Australian Government's $306 million 19 steel vessels Pacific Patrol Boat Replacement Project and is completing the $63 million 2 vessel Cape Class Patrol Boat program for the Royal Australian Navy.
ENDS
Further Information
| | |
| --- | --- |
| Contact: | Austal |
| Phone: | 61 8 9410 1111 |
| Fax: | 61 8 9410 2564 |
| Email: | media@austal.com |