You are here
May 17, 2017
AUSTAL SUPPORTS THE GOVERNMENT'S NAVAL SHIPBUILDING PLAN FOR A NATIONAL ENDEAVOUR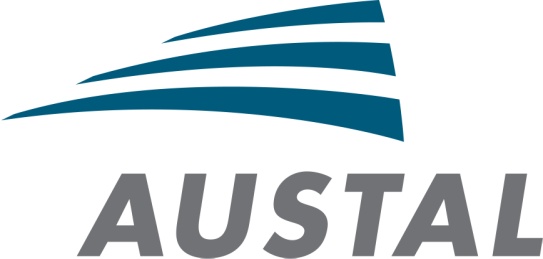 News Release
17 May 2017
AUSTAL SUPPORTS THE GOVERNMENT'S NAVAL SHIPBUILDING PLAN FOR A NATIONAL ENDEAVOUR
Austal (ASX:ASB) welcomes the release of the Government's Naval Shipbuilding Plan.
The plan builds on the Government's commitment from the 2016 Defence White Paper to local shipbuilding and outlines the plan to deliver an Australian sovereign shipbuilding and sustainment industry.
This plan identifies enormous sustainment opportunities for the Henderson Precinct in Western Australia in line with the projects announced for the Osborne Hub, both of which will provide long term jobs and sustainable export opportunities 
"The Government's plan to deliver a national shipbuilding industry perfectly complements Austal's ambitions to make Australia a design and construction center for the sector," Austal Chief Executive Officer, David Singleton said "We are already a major partner for the Government in the naval shipbuilding endeavor, having delivered all Offshore Patrol Vessels for Border Force and Navy since 1998," Mr. Singleton said.
"Australia is already the global leader in shipbuilding for aluminum and dominates the fast ferry market. There is no reason that we cannot have similar success with naval exports and steel ships" he said. 
"Austal has always been export focused, it has underpinned this company for the last 30 years and it is what we will do if successful in the Offshore Patrol Vessel and Frigate Programs.   
"Our increasing design capability – the largest in Australia - will continue to deliver more opportunities in Australia for our local workforce and for our Australian suppliers," Mr. Singleton said.
Austal is one of Australia's leading exporters, selling four boats overseas for every one purchased domestically..