December 21, 2015
Austal USA and US Navy Celebrate Christening of Future USS Omaha (LCS12)

Austal (ASX:ASB) is pleased to announce that Littoral Combat Ship (LCS) 12 was christened at Austal USA's Mobile, Alabama shipyard on Saturday 19th December 2015.
Austal USA officials joined Secretary of the Navy Ray Mabus and the ship sponsor of the future USS Omaha, Susan Buffett, in celebrating the christening of the nation's 12th littoral combat ship (LCS).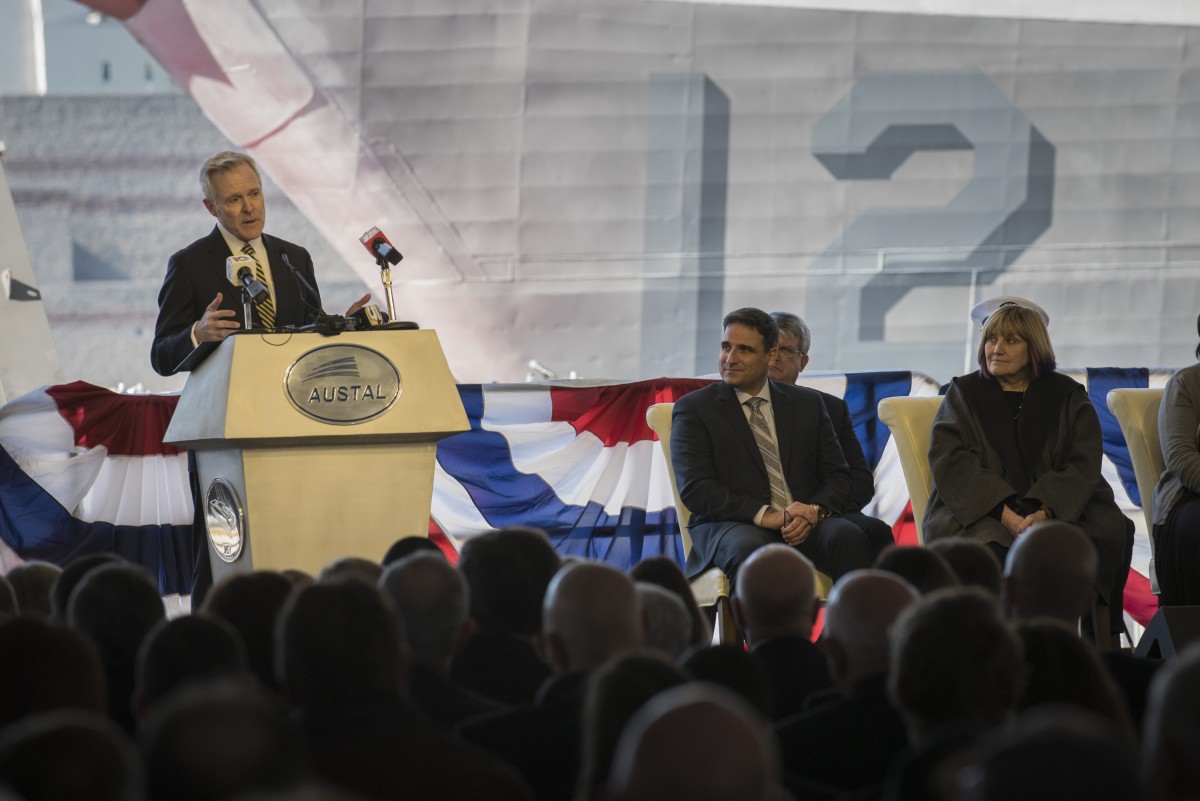 Secretary of the Navy, Ray Mabus speaking at the christening ceremony for the future USS Omaha (LCS12) at Austal USA in Mobile, Alabama, 19 Dec 2015.
The Omaha is the fourth LCS in Austal's 10-ship, USD$3.5 billion block-buy contract. With its shallow draft of 4.5m, the Austal designed and built Independence-variant LCS is an advanced high-speed and agile 127m combat ship designed to operate in near-shore environments, yet capable of open-ocean operation.
"On behalf of Austal's entire shipbuilding team, we are proud to design and build a ship that will carry the great name of Omaha as she defends our nation," said Austal USA President Craig Perciavalle.
"We're equally proud to honour a tremendous American in Susan Buffett who has given so much to so many people through her philanthropic work, and now gives her spirit as the sponsor to this amazing ship."
Buffett, a philanthropist and current resident and native of Omaha, will serve as the sponsor to the ship. She chairs of The Sherwood Foundation, The Buffett Early Childhood Fund, and the Susan Thompson Buffett Foundation.  She also serves on several national non-profit boards, including ONE, Girls Inc., and the Fulfillment Fund.
According to the Society of Sponsors of the United States Navy, "(The sponsor) will participate in all or some of the milestones in the life of her ship … far beyond participation in ceremonial milestones, sponsorship represents a lifelong relationship with the ship and her crew."
The aluminium hulled trimaran was officially named after Nebraska's largest city during an announcement by Secretary Mabus, Feb. 15, 2012. He said the name was "to honour the patriotic, hard-working citizens of Omaha and the state of Nebraska for their support of and contributions to the military."  She will be the fourth U.S. Navy ship named "Omaha."
The future USS Omaha (LCS 12), launched in November and scheduled for delivery in 2016, has a maximum speed of more than 40 knots. The Independence-variant combines superior seakeeping, endurance, and speed with the volume and payload capacity needed to support emerging missions – today and in the future.
"I'm also proud to honour Austal's workforce today – a group of some of the most dedicated and hard-working professionals I have ever worked with," said Perciavalle. "Their expertise and commitment to excellence is evident in the construction of these incredible warships."
Austal's LCS program is in full swing with three ships delivered and six ships under construction at this time. Jackson (LCS 6) was delivered this past summer and was recently commissioned in Gulfport, Miss. Montgomery (LCS 8) and Gabrielle Giffords (LCS 10) are preparing for trials and delivery in 2016. Final assembly is well underway on Manchester (LCS 14) and recently began on Tulsa (LCS 16). Modules for Charleston (LCS 18) are under construction in Austal's Module Manufacturing Facility.
The company has also been contracted by the U.S. Navy to build 10 Expeditionary Fast Transports (EPF), formerly known as the Joint High Speed Vessel. Of the 10 ships included in the $1.6 billion block-buy contract, five have been delivered.
Austal USA operates a full-service shipyard offering design, construction and high-speed vessel service and repair. As Austal continues to expand its service and repair capabilities, the company is well-positioned for new business with advanced engineering, test and trials capabilities, a west coast operations office in San Diego and a state-of-the-art waterfront facility located in the Port of Mobile on Mobile Bay.
- Ends -
About Austal
Austal is a global defense prime contractor and a designer and manufacturer of defense and commercial ships. For more than 27 years Austal has been a leader in the design, construction and maintenance of revolutionary ships for Governments, Navies and Ferry operators around the world. More than 255 vessels have been delivered in that time.
Ships
Defense vessels designed and built by Austal include multi-mission combatants, such as the Littoral Combat Ship (LCS) for the United States Navy and military high speed vessels for transport and humanitarian relief, such as the Expeditionary Fast Transport (EPF) – previously known as the Joint High Speed Vessel (JHSV) - for the United States Navy and High Speed Support Vessel (HSSV) for the Royal Navy of Oman. Austal also designs, constructs, integrates and maintains an extensive range of patrol and auxiliary vessels for government agencies globally, including the Cape Class Patrol Boat Program for Australian Customs and Border Protection. Defence vessels are designed and constructed in Mobile, Alabama and in Henderson, Western Australia.
Austal has been at the forefront of the high speed ferry market since the early days of the industry. Our market leading designs of high performance aluminium vessels have long been at the heart of Austal's research and development. Today, commercial ship construction is centred on our shipyard in Balamban, Philippines.
Systems
Austal has expertise in integrating complex systems into its ships, including ride control, ship management, and communication, sensors and weapon systems.
Support
Austal provides a wide range of support services, including through life support, integrated logistics support, vessel sustainment and systems support. These services are delivered through our global support network in the USA, Australia, Asia, and the Middle East together with partner shipyards worldwide.
Further Information
| | |
| --- | --- |
| Contact: | Austal |
| Phone: | 61 8 9410 1111 |
| Fax: | 61 8 9410 2564 |
| Email: | media@austal.com |