May 9, 2016
Austal USA Celebrates Christening of Manchester (LCS14)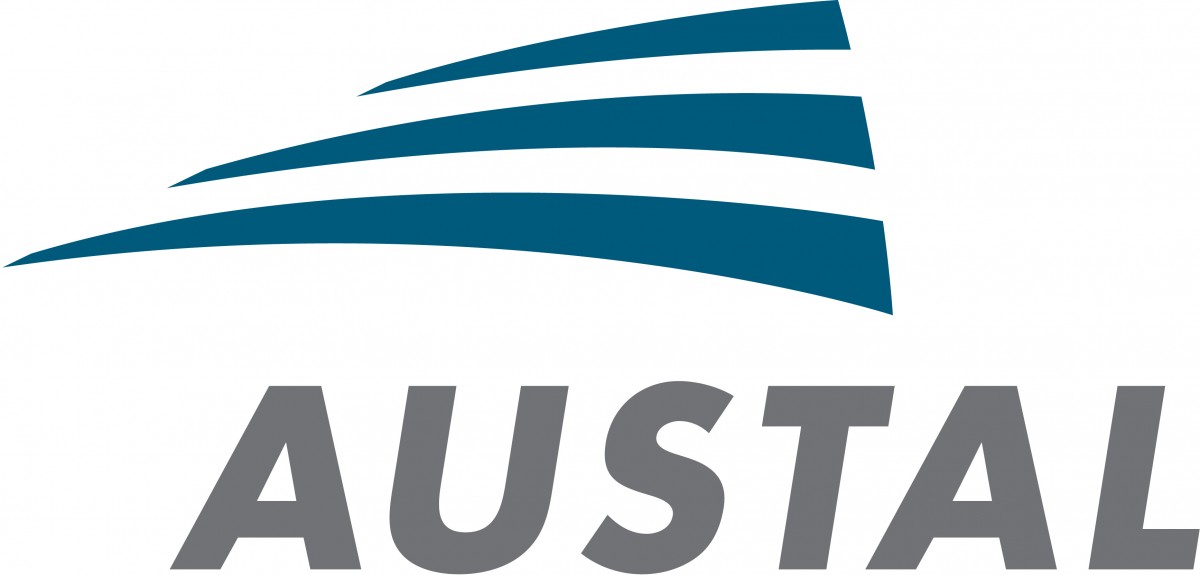 Austal officials joined ship sponsor U.S. Senator Jeanne Shaheen and many distinguished guests in celebrating the christening of the nation's 14th littoral combat ship (LCS), the future USS Manchester, at Austal USA on Saturday, May 7, 2016.
Manchester (LCS 14) is the fifth LCS in Austal's 11-ship, contract worth over $3.5 billion. With its shallow draft of 14 feet, the Austal-built Independence-variant LCS is an advanced high-speed and agile 419-foot aluminium trimaran combat ship that combines superior seakeeping, endurance and speed with the volume and payload capacity needed to support emerging missions.
"On behalf of Austal USA's shipbuilding team, one of the most talented that I've ever worked with, we are proud to provide our sailors with an amazing warship that will honor the great city of Manchester as she defends our nation," said Austal USA President Craig Perciavalle. "We're equally excited to share this celebration with an amazing patriot in Senator Shaheen who has served in her role as both Governor and Senator, and now gives her spirit as the sponsor to this awesome ship."
Shaheen, the only woman in U.S. history to be elected both a Governor and a United States Senator, has served in the Senate since 2009. She has been committed to serving the citizens of New Hampshire for decades and is known for her common-sense leadership, hard work and dedication to improving the lives of the middle class. As New Hampshire's Governor, Shaheen helped create nearly 67,000 new jobs while keeping New Hampshire's tax burden the lowest in the country. She and her husband, Bill - a New Hampshire native - live in Madbury and have three daughters, Stefany, Stacey and Molly (Matron of Honor), and seven grandchildren.
Traditionally, the christening of a ship is where the ship's sponsor blesses the ship by breaking the bottle of champagne on the bow of the ship and ceremonially gives the ship its name. The roll of sponsorship represents a lifelong relationship with the ship and her crew.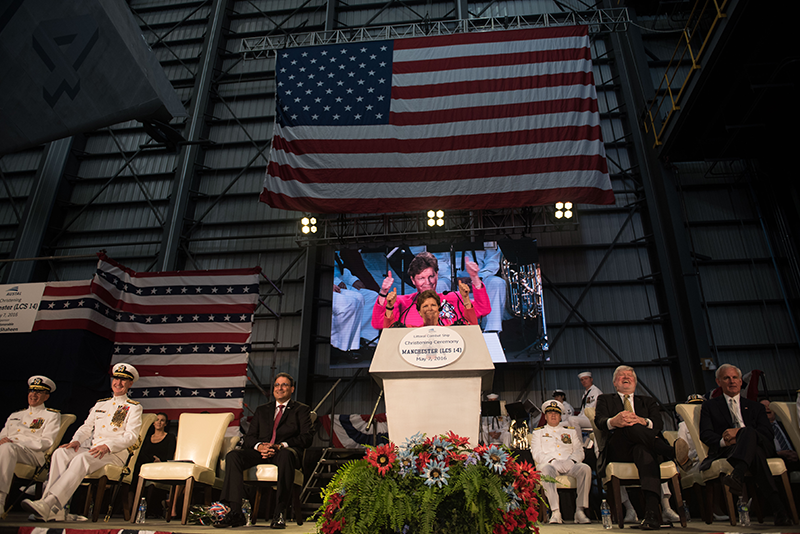 Christening of the 14th littoral combat ship (LCS), the future USS Manchester, at Austal USA
The future USS Manchester (LCS 14), will launch in mid-May and is scheduled for delivery in 2017. She has a maximum speed of more than 40 knots, a voluminous 28,000 sf mission bay, and a flight deck capable of simultaneously holding two H-60 helicopters.
Austal's LCS program is in full swing with three ships delivered and seven ships under construction at this time. Montgomery (LCS 8) conducted acceptance trials late last week. Gabrielle Giffords (LCS 10) and Omaha (LCS 12) are preparing for trials. Final assembly is well underway on Tulsa (LCS 16) and modules for Charleston (LCS 18) and Cincinnati (LCS 20) are under construction in Austal's Module Manufacturing Facility.
The company has also been contracted by the U.S. Navy to build 10 Expeditionary Fast Transports (EPF). Of the 10 ships included in the $1.6 billion block-buy contract, six have been delivered.
ENDS
About Austal
Austal is a global defence prime contractor and a designer and manufacturer of defence and commercial ships. For more than 27 years Austal has been a leader in the design, construction and maintenance of revolutionary ships for governments, navies and ferry operators around the world. More than 255 vessels have been delivered in that time.
Ships
Defence vessels designed and built by Austal include multi-mission combatants, such as the Littoral Combat Ship (LCS) for the United States Navy and military high speed vessels for transport and humanitarian relief, such as the Expeditionary Fast Transport (EPF) ships for the U.S. Navy and High Speed Support Vessel (HSSV) for the Royal Navy of Oman. Austal also designs, constructs, integrates and maintains an extensive range of patrol and auxiliary vessels for government agencies globally, including the Cape Class Patrol Boat Program for Australian Border Force. Defence vessels are designed and constructed in Mobile, Alabama and in Henderson, Western Australia.
Austal has been at the forefront of the high speed ferry market since the early days of the industry. Our market leading designs of high performance aluminium vessels have long been at the heart of Austal's research and development. Today, commercial ship construction is centred on our shipyard in Balamban, Philippines.
Systems
Austal has expertise in integrating complex systems into its ships, including ride control, ship management, and communication, sensors and weapon systems.
Support
Austal provides a wide range of support services, including through life support, integrated logistics support, vessel sustainment and systems support. These services are delivered through our global support network in the USA, Australia, Asia, and the Middle East together with partner shipyards worldwide.
ENDS
Follow Austal USA on: Flickr | Facebook | Twitter | Instagram | YouTube
Further Information:
Austal USA Press
(251) 445-5911
Further Information
| | |
| --- | --- |
| Contact: | Austal |
| Phone: | 61 8 9410 1111 |
| Fax: | 61 8 9410 2564 |
| Email: | media@austal.com |