July 27, 2017
AUSTALFASSMER ENGAGES VICTORIAN DEFENCE INDUSTRY ON OPPORTUNITIES TO CONTRIBUTE TO THE $3 BILLION OFFSHORE PATROL VESSEL PROGRAM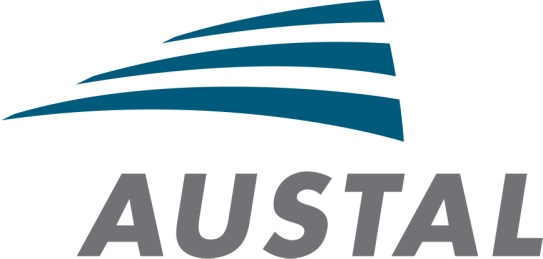 NEWS RELEASE
28 JULY 2017
AUSTALFASSMER ENGAGES VICTORIAN DEFENCE INDUSTRY ON OPPORTUNITIES TO CONTRIBUTE TO THE $3 BILLION OFFSHORE PATROL VESSEL PROJECT
Supported by Federal Member for Corangamite, Sarah Henderson MP, Austal was in Geelong, Victoria today to discuss supply chain opportunities available in the Australian Government's Naval Shipbuilding Plan.
Local companies from throughout the region attended AustalFassmer's OPV Industry Engagement Forum, which outlined the AustalFassmer joint venture bid for the $3 billion Offshore Patrol Vessel (OPV) project.
"There are opportunities for every State and Territory to be a part of to this national endeavor and the Geelong region can certainly be a significant contributor," VP Defence, RADM (Retd.) Davyd Thomas CSC AO said.
"The Government's Naval Shipbuilding Plan  will see $89 billion invested to deliver the next generation of the Royal Australian Navy's fleet," RADM (Retd.) Thomas said.
"Projects like SEA1180 (OPV) will generate enormous opportunities for SMEs in the Australian supply chain.
"Austal already has significant engagement with Victorian companies in our supply chain and we are committed to increasing their involvement through our programs wherever possible.
"As Australia's largest defence exporter, Austal is working together with Fassmer to ensure that Australian industry benefits as much as possible from the OPV project.
"The AustalFassmer joint venture for instance is the only OPV bid to commit to doing all of the detailed design work in Australia, ensuring the upskilling of industry and the maximisation of local content for the project," RADM (Retd.) Thomas said.
The OPV project will see 12 vessels built for the Royal Australian Navy, with the first two ships to be built in Adelaide from 2018 and the remainder in Western Australia.
- ENDS -
MEDIA CONTACT
Contact:          Gemma Whiting, Government Relations Manager
Phone:             +61 408 982 726
Email:              gemma.whiting@austal.com
Further Information
| | |
| --- | --- |
| Contact: | Austal |
| Phone: | 61 8 9410 1111 |
| Fax: | 61 8 9410 2564 |
| Email: | media@austal.com |