August 29, 2008
First Ferries Depart Austal Tasmania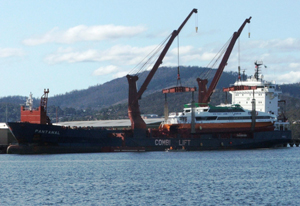 The first vessels to be completed at Austal's Tasmanian shipyard have commenced their 14 day delivery voyage to Hong Kong via the east coast of Australia onboard liftship "Pantanal"
The two 47.5 metre high speed passenger catamarans, built for New World First Ferry (Macau), are scheduled to enter service in October to meet the growing tourism demand generated from the dramatic increase in Macau's tourist arrivals since the development of its gaming and mega-resort industry.
Set to join five similar Austal passenger catamarans already in service in the New World First Ferry (NWFF) fleet, the latest ferries, named "New Ferry LXXXVII" and "New Ferry LXXXVIII" will operate at a service speed of 42 knots while carrying 418 passengers.
Austal was awarded the contract in February 2007 to build repeats of its proven design, which had been optimised to meet NWFF's requirements.
Focussing on small to medium size construction, Austal's Tasmanian shipyard was able to facilitate the fast delivery of the small vessel order at a competitive cost while maintaining the highest international quality standards.
With construction currently underway on three 24m catamaran police boats for the Queensland Police Service, and a workforce which has grown from 40 to more than 120 during the past 12 months, the inaugural delivery signals Austal Tasmania's position as an important member of Austal's global production capacity.
Located in Margate, south of Tasmanian capital Hobart, the modern shipbuilding facility was purchased by Austal in February 2007 and boasts a history of quality aluminium ship construction. Both vessels are be powered by four MTU 16V 4000 M70, each producing 2320kW and driving Rolls Royce / Kamewa waterjets.
The two vessels are among 16 Austal passenger ferries currently on order for the China / Hong Kong region, nine of which have already been delivered. Upon completion of its latest order, Austal will have delivered 52 vessels to the region.
PRINCIPAL PARTICULARS
Length Overall: 47.5 metres Length Waterline: 43.9 metres Beam Moulded: 11.8 metres Hull Depth Moulded: 3.8 metres Maximum Draft: 1.6 metres Maximum deadweight: 70 tonnes Passengers: 418 Crew: 8 Fuel (maximum): 20,000 litres
PROPULSION
Engines: 4 x MTU 16V 4000 M70; 2320kW at 2000rpm each Gearboxes: 4 x Reintjes VLJ 930 Waterjets: 4 x Kamewa 63 SII Service Speed: 42.5 knots
SURVEY
Classification: Det Norske Veritas +1A1 HSLC Passenger R2 EO
Further Information
| | |
| --- | --- |
| Contact: | Austal |
| Phone: | 61 8 9410 1111 |
| Fax: | 61 8 9410 2564 |
| Email: | media@austal.com |