You are here
July 9, 2008
Hormuz Clocks 56 Knots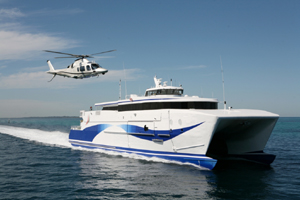 The second of Austal's two 65 metre vehicle-passenger ferries built for the Sultanate of Oman has become the first diesel-powered vehicle ferry to reach a speed of 56 knots.
"Hormuz" recorded a maximum speed of 56 knots (103.7km/h) and a service speed of 52 knots during sea trials held near Henderson in Western Australia yesterday.
The feat makes it the fastest diesel-powered vehicle passenger ferry in the world – a title previously held by its sister vessel "Shinas", which recorded a maximum speed of 55.9 knots last year.
The vessel is scheduled for delivery to Oman next month, where it will join "Shinas" in providing a new tourism service to Oman's spectacular Musandam Peninsular as flagships of the Sultanate's expanded marine transport network.
The unrivalled performance of the two 65 metre vehicle-passenger catamaran ferries showcases the world-class ability of the Austal design team, who successfully developed a new, customised, high efficiency hull design capable of delivering record-breaking performance, while Austal's construction team managed to meet demanding weight targets.
Austal currently has 15 commercial and defence vessels operating in the Middle East, as well as 10 in nearby Turkey, reinforcing Austal's commitment to the unique needs of the region.
As well as reaching speeds of over 50 knots, the ferries carry 208 passengers and 56 cars along an intended 180 nautical mile route. Passengers will experience unparalleled comfort across three classes - Tourist Class, First Class and VIP. High quality seating and catering facilities are all located on a single deck, with seakeeping comfort enhanced by the Austal SeaState Motion Control System.
Onboard features also include a helicopter landing facility suitable for a medium class helicopter, which will be capable of assisting in search and rescue and medivac operations.
Both vessels are powered by four MTU 20 cylinder 1163 series diesel engines each producing 6,500 kW and driving Rolls Royce / Kamewa waterjets. The vessels are built in accordance with the requirements and under the survey of Det Norske Veritas, conforming to HSC 2000.
PRINCIPAL PARTICULARS:
Length overall:                                                                           64.8 metres
Length waterline:                                                                       61.1 metres
Beam moulded:                                                                           16.5 metres
Hull depth moulded:                                                                     6.2 metres
Hull draft (maximum):                                                                   2.1 metres
Deadweight (maximum):                                                              146 tonnes
Passengers                                                                                              208
Crew                                                                                                          12
Vehicles:                                                                                             56 cars
                                                                 or 54 truck lane metres + 40 cars
Axle loads:               - aft main deck:                        9 tonnes (single wheel)
                                                                                  12 tonnes (dual wheel)
                                - remainder of main deck:         3 tonnes (single wheel)
Vehicle deck clear height:                                                             3.1 metres
Fuel (approx):                                                                             44,000 litres
PROPULSION:
Main engines:                                                          4 x MTU 20V 1163 TB73L
                                                                                                  4 x 6,500 kW
Propulsion:                                                                        4 x Kamewa 90SII
Gearboxes                                                                                   4 x Reintjes
Service speed:                                                                                  52 knots
RIDE CONTROL:
                                                                                                       SeaState
SURVEY:
Classification:                                                                   Det Norske Veritas
                                                                                                IMO HSC 2000
Class Notation:                                      X 1A1 HSLC R2 [R3 HELDK (OMAN)]
                                                                               Car Ferry B Passenger E0