August 7, 2019
TRIMARAN TECHNOLOGY CONTINUING TO IMPROVE THE MARITIME EXPERIENCE FOR HIGH SPEED PASSENGER FERRIES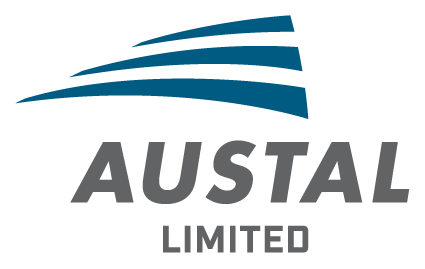 MEDIA RELEASE
5 AUGUST 2019
Leading international shipbuilder Austal's (ASX: ASB) iconic trimaran vessel design is gaining increasing customer demand approaching the 15th anniversary of the first vessel entering operations.
Austal's trimaran was specifically developed to offer passengers and operators a high speed vessel platform that delivers superior sea keeping and vessel stability when operated on routes with challenging sea conditions.
In collaboration with Fred. Olsen, S.A., Austal's research and development team combined with its expert shipbuilders to manufacture and deliver the 127m Benchijigua Express in 2005. From the day it commenced service, the vessel has continued to demonstrate the hull form, size and capacity of the vessel as the superior maritime solution for travel in the Canary Islands.
The next generation Austal trimarans currently under construction have incorporated design refinements and new technology to further increase the superiority of the trimaran platform. The trimaran's ability to adjust ride and roll characteristics exceeds that of catamarans and monohulls, dramatically improving the vessel's stability and therefore customer experience.
"Austal's trimaran design has continually proven its superiority in managing challenging sea keeping conditions in both commercial and military applications. Even at the most basic level, the reduction in instances of sea sickness from this design is a key feature that continues to drive demand for the platform," Austal CEO David Singleton said.
"With 13 Austal trimarans in operation globally, and nine under construction for commercial and military customers, these unique and highly sophisticated vessels continue to attract attention for their performance and success. At present we are receiving increasing demand for the trimaran vessel design over the catamaran due to the passenger comfort and experience the hull design provides." 
This next generation of trimarans currently under construction may not be considered as a prototype any longer, given the evolution of lessons learnt after 15 years of operations by Fred. Olsen, S.A. of her successful flag vessel "Benchijigua Express", and the evolution during more than 15 years of technological improvements on the design of commercial and military trimarans by Austal.
"Fred. Olsen is confident of introducing a superior maritime experience from 2020 for all Fred. Olsen Express customers, who have trusted our services for more than 45 years," Fred. Olsen, S.A. CEO Andrés Marín said.
Austal Media Contact
Contact:                        Gemma Whiting - Government Relations
Mobile:                         +61 (0)408 982 727
Email:                           gemma.whiting@austal.com
Website:                       www.austal.com
About Austal
Austal is an Australian shipbuilder and global defence prime contractor which designs constructs and sustains some of the world's most advanced commercial and defence vessels.
Austal successfully balances commercial and defence projects and celebrated 30 years of success in 2018.  Austal has designed, constructed and delivered more than 300 commercial and defence vessels for more than 100 operators in 54 countries worldwide.
Austal is Australia's largest defence exporter and the only ASX-listed shipbuilder. Austal has industry leading shipyards in Australia, the United States of America and Philippines and service centres worldwide.
Austal delivers iconic monohull, catamaran and trimaran commercial vessel platforms – including the world's largest trimaran ferry and multiple defence programs such as the Littoral Combat Ship (LCS) and Expeditionary Fast Transport (EPF) for the United States Navy. Austal has grown to become the world's largest aluminium shipbuilder.
Further Information
| | |
| --- | --- |
| Contact: | Austal |
| Phone: | 61 8 9410 1111 |
| Fax: | 61 8 9410 2564 |
| Email: | media@austal.com |