May 31, 2006
US Navy Again Selects "WestPac Express" For New Charter Agreement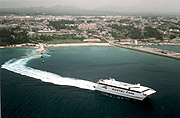 Also, Pentagon Approves New High Speed Ships Programme
Proving to be the most successful and longest serving high speed vessel in service with the US Defense Forces, Austal built "WestPac Express" has been re-chartered by the US Navy for a further period of up to 55 months (commencing on the expiry of her current charter in February 2007) in which she will continue to support the operations of the US Marine Corps' Third Marine Expeditionary Force (III MEF) in the Western Pacific theatre.
Originally described as a Theatre Support Vessel (TSV), "WestPac Express" is now more commonly referred to as a High Speed Connector (HSC), and was first chartered to the III MEF in July 2001 for a "proof of concept" period. This was the first time the US military had contracted a commercial vessel of this type for military support. This charter was so successful that, after competitive tenders, the US Navy's Military Sealift Command (MSC) signed a three year charter in January 2002 which was subsequently extended to February 2007. In 2005, MSC again sought competitive tenders for a new charter of up to 55 months and, after strong international competition from other high speed vessel designs, "WestPac Express" once more proved to offer the best value, commercially and technically.
Austal's Chairman John Rothwell commenting on the charter award said:
"The renewal of the "Westpac Express" charter reinforces our already strong relationship with the US Navy and the US Department of Defense. The success of "WestPac Express", which we have operated for the US Navy for over five and a half years, and the selection of Austal as the designer and builder of the trimaran Littoral Combat Ship demonstrate that we are recognised as a leader in the design and construction of high performance aluminium vessels for military applications, and also that we are seen by the US Department of Defense as being a high quality and reliable supplier of ships and services."
"This recognition sees Austal well placed to participate in future US military initiatives such as the Joint High Speed Vessel (JHSV) programme," he said.
Austal's offering to the defence sector is unique; the application of proven and cost-effective commercial off-the-shelf technology combined with an unparalleled ability to customise vessel design to suit the specific end use.
Joint High Speed Vessel (JHSV) Programme Update
Also in May the Pentagon approved development of a new, high-speed ship (JHSV) that will use technology from the commercial ferry industry.
The vessels will be about 320 feet long, able to carry about 175 troops between islands or on other short-range missions. The Navy wants $554 million for the program over the next five years, and the Army also will seek funding. The White House's most recent budget request includes about $57 million in research funding, among other related budget items. Current plans call for buying three ships in 2009, two vessels in 2010, and two more in 2011. Three of those ships are destined for the Navy; the first ship should be available for deployment by 2011, the Navy said. The Navy and the Army will work together on the program, which was approved last month by chief weapons buyer Ken Krieg. That decision was announced May 5. The Navy will lead the purchasing process. "We expect that we will need to procure new-build vessels," said Navy spokesman Lt. John Gay. He said the Navy expects to seek bids for design and construction in 2008.
Background to JHSV
Whilst the current leasing of foreign built vessels to the Marines and Army has provided valuable insight into the capabilities of commercial ferry technology it does not provide a long term, US-built, solution for the strategic needs of the US Defense Forces, in particular the future war concept of sea-basing. To resolve this in December 2004 the Departments of the Army and Navy agreed to merge the existing HSV, HSC and TSV efforts into the JHSV program administered by the Navy's Program Executive Officer for Ships (PEO Ships).
So favourable was the JHSV program's Initial Capability Document that approval was received from the Department of Defense Joint Oversight Council on November 1, 2005, with all four military services concurring.
As an intra-theatre surface connector the JHSV is a transformational technology that fills a critical capability gap in the family of sea base connectors by linking advanced bases, sea bases, and forces operating ashore. JHSV's will play a crucial role as an operational manoeuvre platform that can rapidly project forces and sustainment in support of the Global War on Terror (GWOT) and Theater Security Cooperation (TSC) objectives.
The JHSV will not be a combatant vessel. Like "WestPac Express" its construction will be more akin to a commercial high speed ferry with the addition of a flight deck and an off-load ramp which can be lowered on a pier or quay wall – allowing vehicles to quickly drive off the ship.
JHSV's manoeuvrability and shallow draft will allow it access to small austere ports common in developing countries. This makes the JHSV an extremely flexible asset ideal for three types of missions: support of relief operations in small or damaged ports; as a flexible logistics support vessel for the Joint Commander; or as the key enabler for rapid transport of a Marine Light Armoured Reconnaissance Company or Army Stryker unit.
Other Austal Defence Projects
Continuing the theme of utilising proven commercial technology to enable defence solutions, this month Austal confirmed a new contract to supply two 65 metre, 50 knot vessels for the Sultanate of Oman that have a multi-purpose capability for both vehicle-passenger transportation and coastal security.
Austal is currently mid way through the delivery of twelve Armidale Class patrol boats for the Royal Australian Navy with an expectation for this to grow to fourteen. Five vessels have already been delivered. NUSHIPS "Maitland" and "Ararat" were named at a ceremony at Austal's Henderson shipyard on May 6 and are currently undergoing sea trials prior to commissioning. The final vessel will be delivered in 2007.
Also nearing completion is a contract for the design, construction and supply of six 16 metre aluminium monohull coastal patrol boats for the Water Police in the Australian state of New South Wales. This follows a nine boat order for the same customer completed in 2000.
In conjunction with an eight boat fleet in operation with the Australian Customs Service these orders give a total of thirty-five Austal built vessels serving Australia's security needs.
In January 2006 an official keel-laying ceremony in Austal's US shipyard marked the commencement of work on the US Navy's 127 metre Littoral Combat Ship that incorporates a high speed trimaran hull design.
Previously, Austal successfully delivered ten 37.5 metre patrol boats to the Republic of Yemen in an impressive single shipment in February 2005 following an earlier delivery of three high speed vessels to the Kuwait Coast Guard.
About "WestPac Express":
Capable of sustaining loaded speeds of 36 knots, "WestPac Express" can rapidly deploy a complete battalion of up to 970 Marines and plus vehicles and equipment in a single lift, saving both time and money. For example, the normal transit from Okinawa to South Korea aboard ferry or amphibious shipping would take two to three days. Moving a Marine infantry battalion by air would take fourteen to seventeen C-17 aircraft lifts to deploy, if such a number of planes were available.
Describing the immediate time and cost benefits of "WestPac Express" to a typical deployment, CW05 Roger G. Rose, Surface Embarkation Officer, II MEF G-4, Strategic Mobility Office, commented, "Instead of a two week process to deploy by air lift WestPac Express moved the unit's 843 Marines, 63 vehicles and 27 containers of baggage and cargo in 30 hours. Instead of a price-tag of over $500,000 for one-way transportation requiring at least sixteen, C-17 airlifts, WestPac Express did the round trip lift for $130,000."
Operation Cobra Gold May 2006
2006 marks the 25th anniversary of this annual combined, joint, multilateral, training exercise and includes participants from the United States, Thailand, Singapore, Japan and Indonesia with observers coming from many countries in Europe, Asia and Australasia. This year's exercise in Thailand ran from 15 to 26 May and, according to Marine officials, included a computer-simulated staff exercise, field training exercises, numerous humanitarian and civic assistance projects and exercise-related construction projects designed to improve multinational interoperability and strengthen international relationships.
"WestPac Express" has a key role to play in the exercise moving Marines and their equipment currently station in Okinawa to Thailand.
On Monday 8 May, more than 175 Marines and sailors, together with their vehicles and containers of equipment were loaded aboard "WestPac Express" at the port of Kin Red near the III MEF base at Camp Hansen. The Marines of Kilo Battery, 3rd Battalion, 11th Marine Regiment, are from the Air Ground Combat Centre normally based at Twentynine Palms, Calif., and are currently on Okinawa under a six-month Unit Deployment Program. According to Capt. Josh Chartier, the battery commander, the unit will take part in jungle-warfare and small-arms training in the exercise somewhere in southeast Thailand. Also involved was the Hawaii-based Combat Logistics Platoon 3, which provided maintenance support and engineer site improvements.
Note to Editors: "Troops loading" picture (above) is supplied from operation Cobra Gold for which the following caption applies; Marines from K Battery, 3rd Battalion, 11th Marine Regiment, and Combat Logistics Platoon 3 board the high-speed vessel Westpac Express for Exercise Cobra Gold 2006 in Thailand. (Photo by Sgt. Ethan E. Rocke).
Further Information
| | |
| --- | --- |
| Contact: | Austal |
| Phone: | 61 8 9410 1111 |
| Fax: | 61 8 9410 2564 |
| Email: | media@austal.com |