February 18, 2000
Villum Clausen Breaks World Distance Record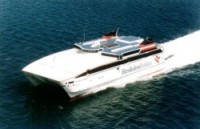 Reaching speeds of 47.7 knots, the Austal built "Villum Clausen" has today written its name into the record books, breaking the record for the longest distance travelled by a commercial passenger vessel in 24 hours.
En-route to Denmark, the 86 metre gas turbine powered vehicle-passenger catamaran covered a distance of 1063 nautical miles in a 24 hour period, adding another 45 nautical miles to the previous record. The record breaking journey took place on the passage between Sumatra and Cochin, India, during the fast ferry's delivery voyage from Austal's Western Australian shipyard to the Danish island of Bornholm for BornholmsTrafikken.
The average speed on the run was 44.29 knots.
The ship's captain, Claus Kristensen, said the record attempt started on 16 February at 2300 LT north of Sumatra when "Villum Clausen" overtook the Danish container vessel "Marstal Maersk", who noted the ship's speed and position in their ship's log as the official start of the attempt, and finished 24 hours later at 2300LT on 17 February, south west of Cochin when she passed the Liberian vessel "Toba".
"After 23 hours "Villum Clausen" covered the distance of 1018.2 nm, which is the distance of the previous record, held by the Danish fast ferry 'Cat-Link V', which won the Blue Riband of the Atlantic on the 20th of July 1998," said Captain Kristensen.
The following documentation will be used as evidence:
28 ships have been overtaken and noted our vessels name, speed and position in their log
The ship's log of "Villum Clausen"
Electronic chart plotter
"Villum Clausen's" bridge data recorder (black box)
Further Information
| | |
| --- | --- |
| Contact: | Austal |
| Phone: | 61 8 9410 1111 |
| Fax: | 61 8 9410 2564 |
| Email: | media@austal.com |