You are here
July 23, 2017
AUSTALFASSMER ENGAGES NSW DEFENCE INDUSTRY ON OPPORTUNITIES FOR THE AUSTRALIAN GOVERNMENT'S $3 BILLION OFFSHORE PATROL VESSEL PROJECT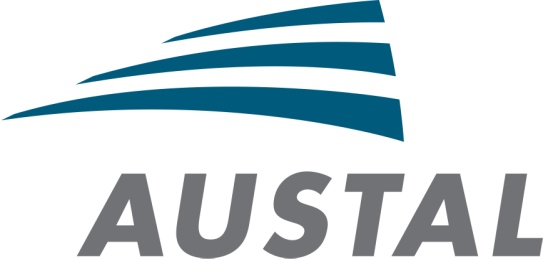 NEWS RELEASE
24 JULY 2017
AUSTALFASSMER ENGAGES NSW DEFENCE INDUSTRY ON OPPORTUNITIES FOR THE AUSTRALIAN GOVERNMENT'S $3 BILLION OFFSHORE PATROL VESSEL PROJECT
Today in Sydney, AustalFassmer was joined by Jason Falinski MP, Member for Mackellar and Mr Medhat Wassef, President of AIDN NSW, to present defence industry opportunities available to NSW industry.
More than 150 company representatives attended AustalFassmer's industry engagement forum, which outlined the supply chain opportunities to the AustalFassmer joint venture bid for the Australian Government's $3 billion Offshore Patrol Vessel (OPV) project.
"There are opportunities for every State and Territory to be part of this national endeavor and NSW is no exception," Market Development Manager at Austal, Tim Speer said.
"The Government's national shipbuilding plan will invest $89 billion to deliver the next generation of the Royal Australian Navy's fleet which of course means a lot of supply chain work for Australian SMEs," Mr. Speer said.
"Austal already has significant engagement in our supply chain in New South Wales and we are committed to increasing that involvement by working with companies to increase our Australian content wherever possible," he said.
"As Australia's largest defence exporter, Austal is working together with Fassmer to ensure that Australian industry benefits as much as possible from our OPV program.
"The AustalFassmer joint venture is the only OPV consortium to commit to completing all of the detailed design work and procurement for the project in Australia," Mr Speer said.
The OPV project will see 12 vessels built for the Royal Australian Navy, with the first two ships to be built in Adelaide and the remainder in Western Australia.
ENDS
MEDIA CONTACT
Contact:               Gemma Whiting, Austal Ltd
Phone:                 +61 408 982 726
Email:                     gemma.whiting@austal.com
From left; Austal Market Development Manager and OPV Capture Manager Mr Tim Speer with Member for Mackellar, Jason Falinski MP and AIDN NSW President Mr Medhat Wassef at the AustalFassmer OPV Industry Engagement Forum in Sydney, 24 July 2017.